I. Introduction
Tower Health (TH) Leadership and the system hospitals continue to remain engaged and committed to innovative care transformation as it relates to the BPCI-Advanced (BPCI-A) program and beyond. Alternative payment models of care that focus on value and quality of care provided are on the rise in this Country. BPCI-A participation increased by 58% between Model Year (My) 2 and MY 3, according to ECG Consultants. Click here to read more. Thank you to all of the engaged and motivated leaders and key stakeholder staff across the TH system that have had an active part in these initiatives. The impact of all of the significant work accomplished thus far has truly echoed our system's value proposition of Advancing Health and Transforming Lives. 
Please visit the THP website for more information around the BPCI-A program as well as to reference previous THP BPCI-A quarterly newsletters.
This month's newsletter will focus on a high level overview of the structure and flow of Performance Period (PP) 1 shared savings payments to physicians chosen for gainsharing, as this payment is expected from CMS sometime quarter two of 2020. This newsletter will also cover the opportunity Reading Hospital had to share experiences with CMS around value based models of care. In addition, an update around Tower Health's Population Health team's efforts to manage and support the BPCI-A patient population across the continuum. Finally, the newsletter will touch on new advances within the post-acute care (PAC) space including relationship development and hospital leadership expectations within those collaborative spaces. 
II. BPCI-A Performance Period 1 Positive Hospital Savings – now what?
BPCI-A Performance Period (PP) 1 includes episodes completed between October 1st, 2018 and June 30th, 2019. The THP BPCI-A December 2019 newsletter summarizes the financial performance, by hospital and bundle type, for PP 1. The amounts reflected in this newsletter include THP & Physician portions and are not reflective of what the hospital will ultimately receive. Please note, physicians are only eligible for funds accrued during episodes initiated after January 1, 2019. 
The difference between the CMS projected target spending and the episode's actual spend (includes the initial or anchor hospitalization through a 90 day period of time post-hospital discharge) is known as the net payment reconciliation amount (NPRA). This amount is adjusted for (1) quality performance, up to 10%, and (2) a stop-gain provision. CMS will reconcile and adjust based on quality performance in subsequent reconciliation periods allowing hospitals the opportunity to earn back, up to the 10% withhold amount. The quality adjustment and reissuing of the PP1, 10% withhold is scheduled for Fall of 2020. 
If individual hospital bundles generate a positive financial amount in aggregate for the hospital, those dollars will flow into the Tower Health Funds Flow and Gainsharing Model outlined in Figure 1. Hospital financial savings will be split 3 ways: 15% to Tower Health Partners (THP), 35% to the individual hospital and 50% those dollars will flow into a general physician funding pool for distribution to the individual physicians or physician groups chosen, by bundle, for gainsharing. The maximum payment to the physicians is capped at 50% of their professional fees. 
Figure 1: Funds Flow and Gainsharing Distribution Model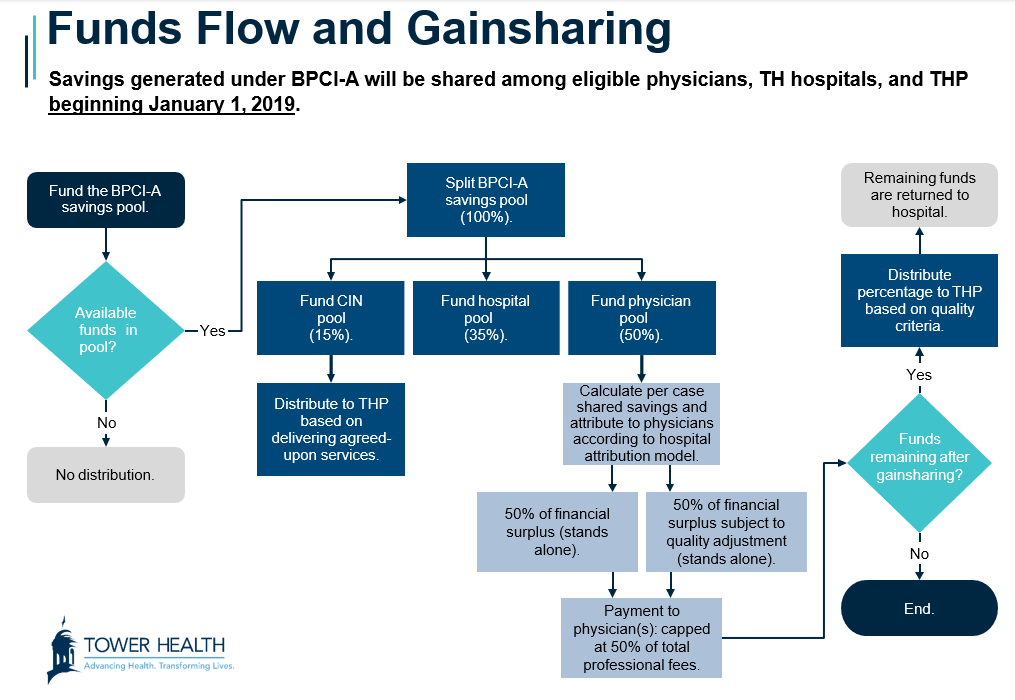 Individual hospital leadership teams predetermined physician attribution by specialty category as well as the physician quality measures for each bundle. CMS requires physicians participating in gainsharing to be held to quality metrics. Specifically, 50% of the physician pool will be contingent upon quality performance, the other 50% that compiles the physician pool is a standalone amount. Figure 2 outlines both physician attribution and the chosen quality measures by hospital & bundle episode-type. 
Figure 2: BPCI-A Model Year 1&2 – Tower Health Episode Gainsharing (GS) Breakdown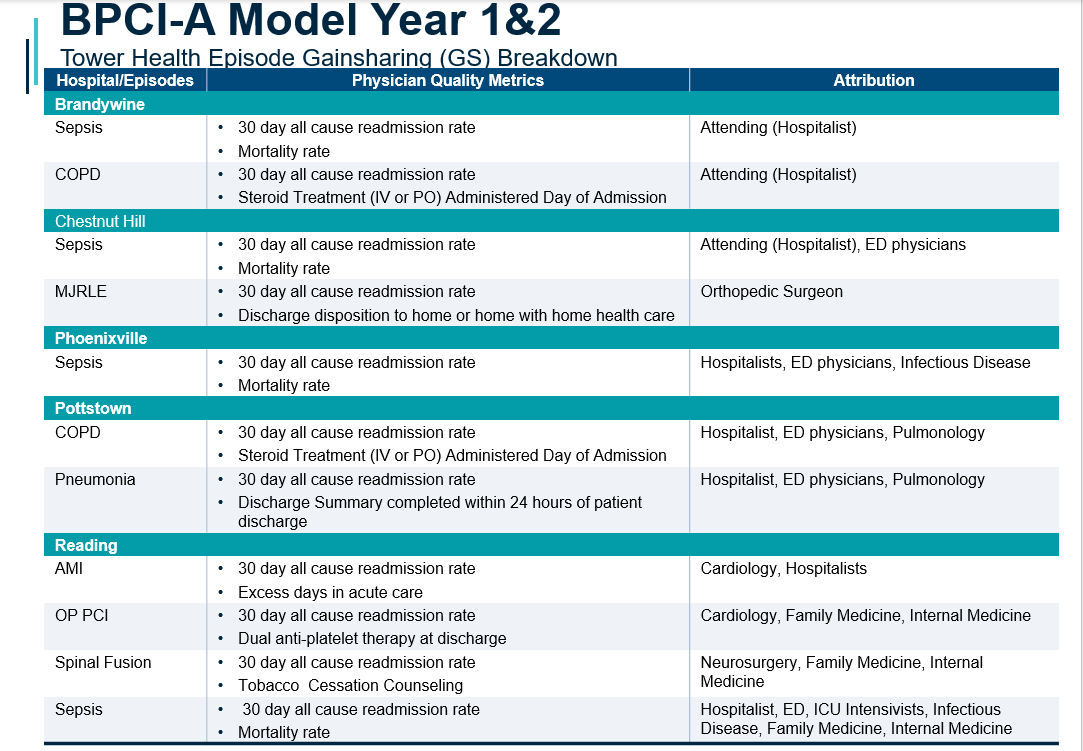 Questions regarding attribution and gainsharing as it relates to you and or your practice? Please reach out to your hospital leadership team to request more information. 
III. An opportunity to Share with CMS
BPCI Advanced Program Evaluation 
February 2020, Reading Hospital (RH) was asked to participate in a program evaluation call with Abt Associates, led by The Lewin Group; an entity contracted by the Centers for Medicare & Medicaid Services (CMS) to evaluate the Bundled Payment for Care Improvement Advanced (BPCI Advanced) model. 
The purpose of the interview was to better understand the organization's participation in multiple Medicare payment initiatives, and how that has influenced the organization's decision to join the BPCI Advanced model, selection of clinical episodes, approach to care redesign and approach to (NPRA) sharing. RH was selected due to their current participation in the Comprehensive Care for Joint Replacement (CJR) model. 
The following Tower Health (TH) BPCI-A key stakeholders participated in the Interview to represent all applicable topics discussed: Luis Rosa (VP Payor Contracting), Dawn Dreibelbis (AVP Population Health) Karen Bielecki (System Director Quality) and Kristen Klopp (Manager of Bundled Alternative Reimbursement). 
The team's answers focused on RH's preliminary successes through the CJR program, both from a financial and clinical outcomes perspective. The approach to care redesign was organized by setting: inpatient/acute, post-acute and ambulatory. Detailed care process mapping and subsequent clinical pathway design were developed to target barriers to care and opportunities for improved clinical care redesign. Chosen post-acute partnerships were not limited to referral volumes, rather on the individual entity's quality scores, average LOS, willingness to partner with the system as well as their commitment to remain transformational and innovative in their care strategies. 
It was without hesitation that the TH team participating on the call was able to confidently state that RH's participation in BPCI-A was significantly influenced by the organization's overall success with the CJR model.
IV. Population Health Update
Tower Health's Population Health team works telephonically, and in some cases, through office nurse navigators, to provide oversight, support and general care management strategies for the TH system's BPCI-A patient population across the entire 90 day bundle episode of care. 
Bundle Identification: 

Population Health has a mechanism in place to identify all Bundle patients upon transition from the Hospital regardless of discharge disposition. They run an Epic report daily which provides 3 different data points to pick up bundle cases 1) working DRG 2) patients attributed to a bundle registry; triggered based off of order set usage 3) final coded DRG. 

Transitions of care and follow up throughout bundle episode: 

All TH bundle patients are followed by a Population Health nurse navigator through the 90 day bundle episode. Navigators make calls to patients at various, predetermined increments using bundle-specific, Physician vetted questions to assess status of care & health. 

Currently, there is work in place to create workflows to address the following: 

Bundle patients that transition to an acute inpatient rehab (IRF) or a skilled nursing facility (SNF). Outreach to PAC entities will follow to make them aware that a patient is in a bundle or subsequently falls out of a bundle (given their final coded DRG, 3-7 days post-discharge, is a non-bundle DRG). 

Enhance collaborative efforts with the PAC facility to assist with discharge planning and hold collaborators accountable to targeting the bundle-specific projected length of stay (LOS). 

Manage/follow bundle cases in PAC until the patient transitions back to their home setting where the team will work to ensure that patients have timely and appropriate follow up with their primary care doctor.
V. Post-Acute Care (PAC) Update 
TH PAC leaders remain committed to expanding relationships and collaborative efforts with both PAC partners and beyond, in order to best support the BPCI-A patient population across the continuum and promote best patient outcomes. The TH PAC Clinical Effectiveness Team (CET) meets on a quarterly basis to facilitate this work across all TH Hospitals participating in the program. 
PAC Leadership: 

Individual Hospital PAC Leadership teams include the Chief Financial Officer (CFO), Chief Quality Officer (CQO) and each hospital's Director of Care Management. Figure 3 provides an updated chart of designated leaders for each TH Hospital as well as each of their SNF & Home Health (HH) collaborative partners. 

Expectations: 

TH has rolled out individual hospital expectations around the work to be done with contracted PAC collaborators. Figure 4 outlines hospital PAC leadership team responsibilities in managing their PAC collaborator partnerships. 
Figure 3: PAC Leadership by Hospital & Collaborator Partners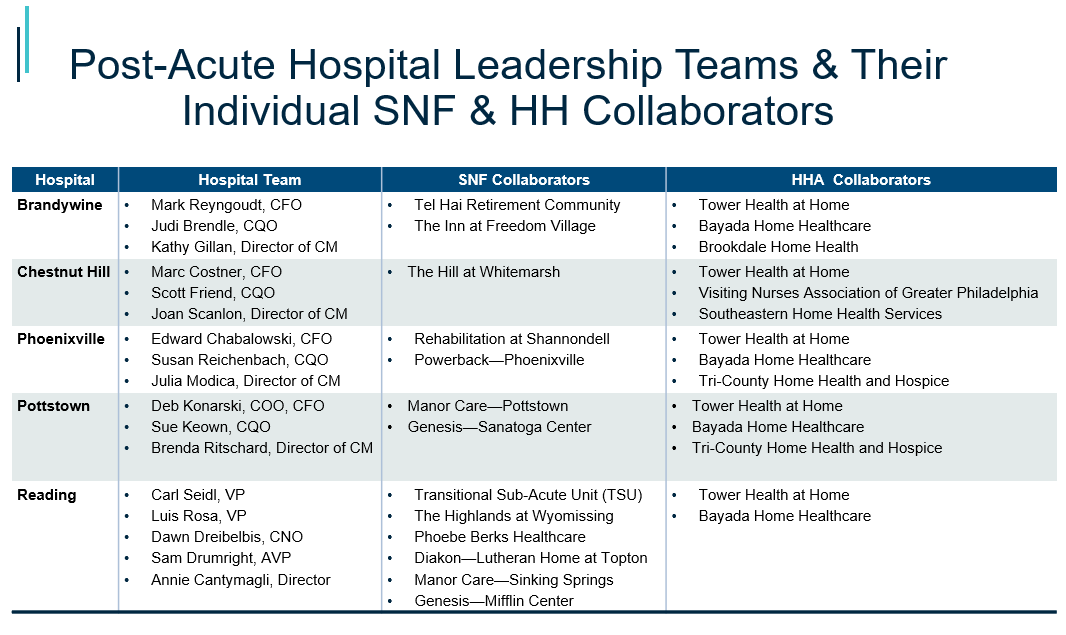 Figure 4: PAC Collaboration Hospital Expectations