Three words come to mind for Dr. Vinti Shah when she looks back at this past year living under the weight of the COVID pandemic: transition, growth and compassion.
"This is the year that I probably grew the most as a mom, as a physician, as a person, a leader, a wife, a daughter," said Shah, chief of hospice and palliative care at Reading Hospital-Tower Health. "This has been the year of transition and growth. I think this is also the year where compassion just has a whole new dimension in my existence, professionally and personally.
"This is also the year where I've had to provide the most care for people, emotional and spiritual care." 
Shah, 40, of Sinking Spring has seen the toll the virus has taken not only on her patients and their families, but also on her co-workers.
"It was the scariest time in memory," she said. "I don't think people were aware of the fragile nature of the pandemic and the toll that it took on all medical workers, not just physicians."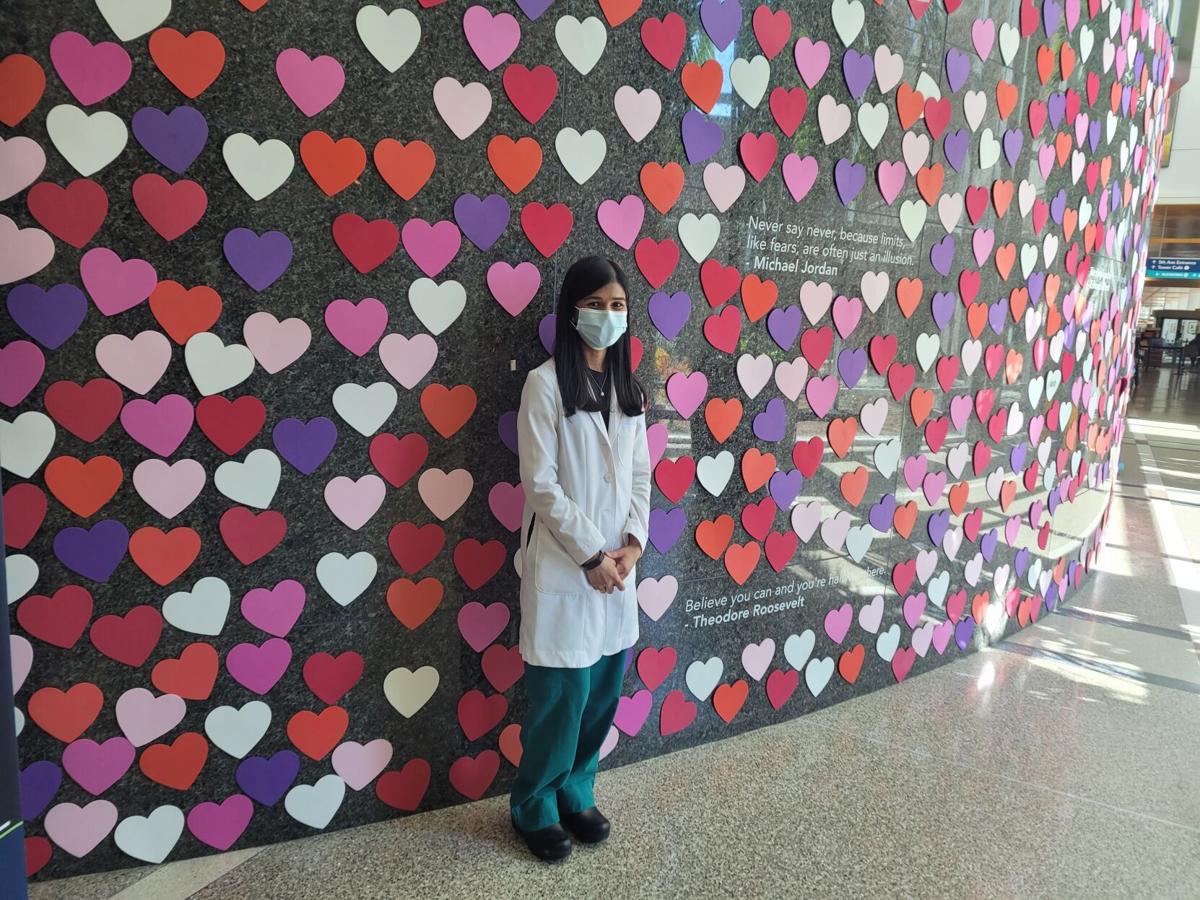 Part of Shah's job often includes talking with patients and their families about medical living wills and advanced care planning. The pandemic caused similar conversations to occur with her co-workers.
"When the pandemic started and I had to have these conversations with my friends, it was probably one of the hardest things I've ever done," she said. "I think physicians (and other medical workers) had to look at their own mortality at the start of this."
Inside the hospital
In an effort to protect health care workers and patients, hospitals implemented new protocols before and as the virus began to actively circulate in the community. The protocols helped lower the risk of the virus spreading in the hospital but also created new challenges for Shah and her team. Social distancing and telemedicine limited the ways the team members could connect with one another and patients.
"We see patients at such a delicate time in their life," Shah said. "For me, that connection with the team is really important."
Before the pandemic, the team would start the day with a huddle in a small conference room. They would discuss their patients and talk through what kind of help each patient needed, as well as offer support to one another.
"That huddle in the morning is how we used to start every single day before the pandemic," Shah said. "Seeing each other, rejoicing in each other's patient care and lifting whoever needs to be lifted."
The pandemic made it impossible to continue the huddle in the same way. 
"There's no possible way to do the thing that we love the most which is squishing together into that room in the morning," Shah said.
"The thing that we're taught most during fellowship is the art of communication. They teach us that a huge part of communication is nonverbal. When we can't huddle, it's hard for us to check in on each other."
Now the huddle is done virtually with a rule that cameras must be on to bring back some of the nonverbal communication component.
"That's been a huge shift from a team that is really used to literally physically touching our patients and seeing their nonverbal communication, transitioning to just talking on the phone was a huge transition for us," Shah said. "It (telemedicine) was so hard because as you're talking to your patient, one of the things I always make it a point to keep on my radar is how the loved one in the room is doing. When you can't see that loved one, it's hard to take full stock of how that person is. The loss of the ability to see people has been really hard."
Shah noted the hospital has been compassionate in its approach with visitor restrictions for those in the hospice and palliative care area. The past year has been about balancing empathy, humanity and the rules, in Shah's opinion.
"The other piece is that life still happens," she said. "In spite of COVID, people with cancer were still being diagnosed with cancer. People were dying of other diseases. Divorces were still happening. It's just been emotionally hard. I've been humbled by people's resilience this year."
COVID patients
During this past year, Shah's patients have included those with COVID.
"There's no such thing as an easy death," she said. "I think all deaths are emotionally hard, even ones that families are prepared for are emotionally hard. The COVID ones were so drastically different and just sometimes the sheer volume of them."
During the pandemic it was common for Shah to have a patient whose loved ones were also hospitalized with the same disease. She recalled caring for one COVID patient as they reached the end of their life while the patient's significant other was in another area of the hospital also battling COVID.
"Those cases were what made COVID even more emotionally devastating," Shah said. "Rarely did I have a patient before the pandemic who had multiple family members in the hospital with the same disease and the same gravity of the disease.
"The pandemic sort of stole this ability of people to grieve properly because it was grief after grief."
Outside the hospital
Just as Shah's routine changed at the hospital due to the virus, so did her routine at home before and after work. 
"I don't know any physician whose routine did not change," she said. "We've always been a two-physician household for as long as my kids have remembered. Mom goes to work in dresses, and dad goes to work in scrubs. When I shifted to scrubs, that was a huge transition for my children. Me being in scrubs gave them this visual cue that we had entered a whole new territory."
When Shah returns home after her shift, she now changes out of her work clothes in the mudroom. The clothes go into a separate hamper, and Shah heads directly into the shower to wash off the day. That has become a way for her to transition from work to home.
"It's almost ritualistic and therapeutic for me," Shah said. "I always said it was like my cleansing, like I'm washing the COVID off."
Shah and her family also started new traditions including making it a point to eat dinner together every night during which they would read a reflection before dinner and talk about current events. Fridays have become pasta and Disney night. Keeping these traditions is what Shah is looking forward to after the pandemic ends.
"I want to keep my Friday night dinners, and I want to keep my reflections," she said. "I think what I'm most looking forward to after the pandemic is a sense of freedom to travel but having the wherewithal to not overbook our lives and retaining that sense of family."
While Shah has seen some of the most devastating parts of the pandemic, she has also seen some of the best in the way the community has come together.
"We've seen this incredible outpouring of support from the community," she said. "I want the community to know that it did not at any point go unnoticed."
One moment Shah shared was going to work and seeing messages of thanks written in chalk on the sidewalk leading to the hospital. She said those expressions of gratitude have meant so much.
"So, yes, this has been one of the scariest times, but I think I want the community to know there is no way we would have gotten through this had it not been for the generous love and support from pretty much everybody that I've encountered," Shah said.