It's nice to see you and we're so glad to have you. 
Next to our patients, our patients' friends and family members are the most important people we know. Spending time with someone who cares during a hospital stay stimulates smiles and lifts spirits on both sides of the hospital bed. That's why we encourage visitors to come see us, sit and stay awhile. It's a healthy experience for everyone.
Visiting hours
Our current policies may have changed due to the COVID-19 pandemic. See the latest updates to our Visitation Restrictions.

Reminder: A mask must be worn when visiting patients in the hospital.   
| Unit/Department | Hours |
| --- | --- |
| Med/Surg West and Telemetry East | 8 a.m. to 8 p.m., Monday through Sunday |
| Intensive Care Unit | 8 a.m. to 8 p.m. Visitors are limited to two at a time. |
Meals
We operate a self-service cafeteria that offers breakfast and lunch, Monday through Friday. Visitors can enjoy their meal in our comfortable dining room or use takeout packaging to dine with a patient. Vending machines located in the dining room offer microwaveable meals, snacks and beverages 24 hours a day.
Breakfast: 7:30 to 10 a.m.
Lunch: 11:30 a.m. to 2 p.m.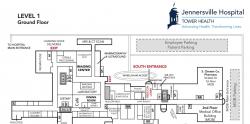 Building and parking information for the Jennersville Hospital campus.
Download the PDF
Best Practices
Wash your hands often while visiting our facility. It prevents the spread of germs that can cause infection. If you have a fever, cold or any infection symptoms, please stay home.
Jennersville Hospital is a tobacco-free campus. No smoking is allowed anywhere on the grounds. Don't bring patients food or candies unless their attending doctor gives permission.