The DAISY Award honors and celebrates the skillful and compassionate care nurses provide every day.
December 2020
Congratulations to Sarah Lattanze, RN, 3rd floor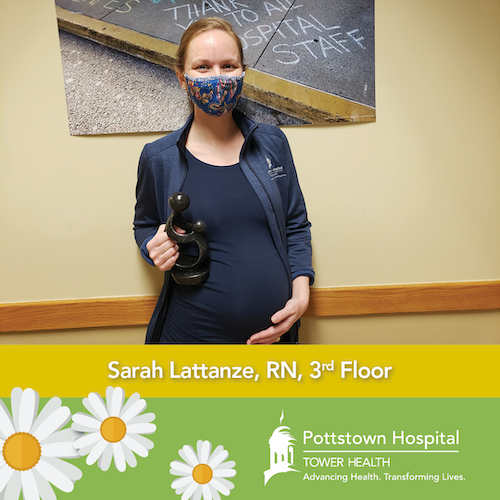 "I spent 3 days in Pottstown, admitted from the emergency room. I was cared for by many medical professionals. Nurse Sarah Lattanze stands out among them as a shining example of how a nurse should care for a sick hospital patient. Her competence, knowledge, professionalism, bedside manner, and compassion all came into play to minimize my hospital stay and to quickly push me to overcome my medical problems. This outstanding nurse and medical professional was attentive to my issues, listened to my complaints and problems, and set herself about to help me overcome my fears and trepidations by listening, understanding, and using her knowledge and compassion to boost my own knowledge of my situation and thus helping me to get better. She unhesitatingly went out of her way to ensure my comfort while in the hospital and to place herself in my shoes to help me through a very difficult time in my life. When I was down, disappointed, or demoralized, she made herself available to help me understand what was going on with my illness and then turning the negative to a positive in my mind. I can't praise this outstanding nurse enough for how she helped me out of a complete funk and being a major catalyst in my recovery. Everything she did pointed to a person who was selfless and compassionate. I couldn't have asked for a better nurse to get me through what I was experiencing. Sarah personifies the qualities needed to give patients the ability and desire to get better. She is a shining example of the professionalism required to make a hospital "stand out" as a place where sick people would want to go to recover. She certainly brings credit to Pottstown Hospital and to Tower Health in such a way as to warrant and deserve this DAISY award."