The DAISY Award honors and celebrates the skillful and compassionate care nurses provide every day.
November 2020
Alexa Meikl, RN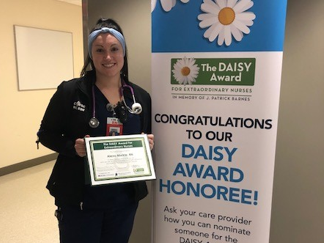 Here is the nomination Alexa received: "I had come into the hospital and had an emergency spinal surgery done. Alexa made my stay here unbearable because she actually listened and understood the frustration that I was feeling. I had to have an unexpected spinal surgery and ended up staying longer than I ever expected. It is difficult to explain the frustration of not being able to do things for yourself. Alexa's competence as a nurse is amazing and I believe she should be recognized for her professional yet compassionate care. I was frustrated with my condition, and she knew how to explain what was happening to me. I felt completely safe in her care, and I am very grateful that she cared for me with such compassion."
November 2020
Cara Welch, RN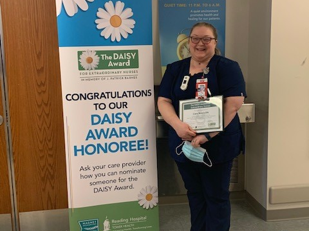 Here is the nomination Cara received: "Cara has been a previous nurse of mine. Her attention to detail and listening to her patient has saved my life literally twice now. She is a great asset to this facility and should be recognized as such. Her patient care is way above par, as is her caring, knowledge, and skill. I knew I would be safe, no matter what was to come because I had Cara. In the future, should I need to be admitted again, I would search her out. Please recognize her for the magnificent person and employee that she is."
November 2020
Sabrina Hall, PCA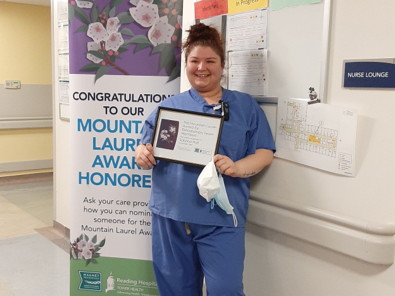 Here is the nomination Sabrina received: "I have been a patient for the last 10 days. I have a fracture in my right foot. Since I cannot put any weight on my foot, I have had to use a bedside commode. To no avail, I requested that I be given a wheelchair in which to have the privacy to go to the bathroom. I told [Sabrina] my problem and she managed to solve it. In about an hour a wheelchair arrived. Kudos to Sabrina, I appreciate her so much!"
Fall 2020
Ashley Roberts, RN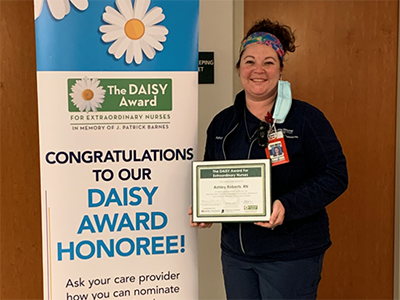 Fall 2020
Brittany Aulenbach, RN, CMSRN, MSN, Perioperative Nurse Specialist
Natalie Dessario, RN, BSN, CNOR
Patricia Monger, RN, BSN, CNOR
Jennifer Brachman, RN, BSN, CNOR, RNFA
Steve Hufford, CST
Kathy Reed, CST
Holly Thompson, CST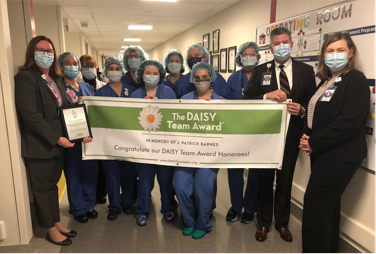 Here is the nomination the team received: "I think it's safe to admit I had my open-heart rotation during some crazy weeks. Just wanted to say how much I appreciated all my preceptors on the team (Natalie, Patty, Kathy, etc.). I know they had some extensive days/nights with not much sleep, yet they were ALWAYS patient, encouraging, positive, and took the time to explain things to me. I have the utmost respect for them all, and they showed me the true meaning of teamwork."
July 2020
Laura Vandenberg, RN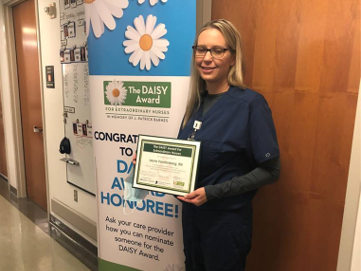 Here is the nomination Laura received: "Laura was very supportive and talked with me about the stressors in my life which are exacerbating my diagnoses. She helped me talk through my problems with my mother recently trying to commit suicide, my stress working in a skilled nursing facility during a pandemic and dealing with normal family issues on top of that. She also assisted me in searching the Tower Health website for information on my diagnosis. She went above and beyond to make me feel cared about and treated me with respect."
June 2020
Julia Kastle, PCA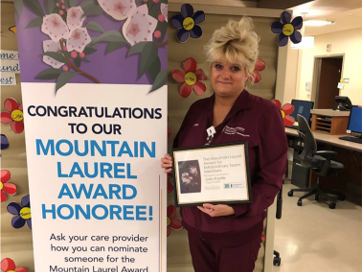 Here is the nomination Julia received: "I was admitted to RH with a severe RLE infection that resulted in an unexpected AKA. I was then transferred to RHRW ARU for therapy. During my time here, a PCA named Julie was assigned to care for me a few times. Due to COVID, I have been separated from my family. Julie was kind and compassionate. She took the time to listen to my story and offered support. She stepped up and became my support system. Julie also always took her time when caring for me. She knew how to transfer and move me in a way to cause the least amount of pain as possible. I wanted Julie to be recognized for her exceptional care."
May 2020
Melissa Sottosanti, RN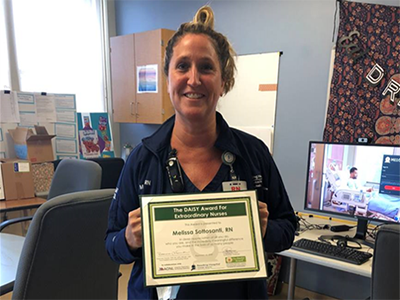 Here is the nomination Melissa received: "I don't want to recall the whole day, it was too traumatic for me to right now, but these women, are what pulled me through this terrible procedure and traumatic event I went through. Without their kindness, words of soothing comfort, I still to this moment don't know how I would have pulled through this, it was a mental struggle. They need to be recognized for how they helped me through it. The highest credit I would like them to receive, for that whole day and then the final hours leading up, I was a mental wreck. Still am about it, should have never happened to someone, let alone me."
March 2020
Brittany Dugan, BSN, RN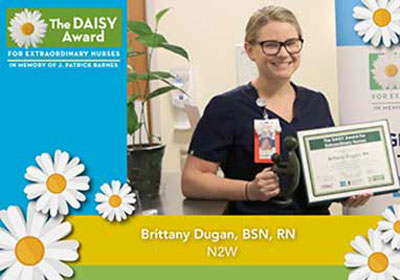 Here is the nomination Brittany received: "My wife of 63 years died on December 18, 2019, While I was a patient in N2. Her funeral was held on December 27th and I was not able to be there. Brittany was my nurse and knowing that I would have to miss my wife's funeral mass, came up with a great idea that would allow me to be there using Facetime. After contacting my daughter with the suggestion, the funeral Director John Lutz called ( this nurse) to make sure the Facetime connection would work. IT DID! Thanks to (this nurse) who allowed me to use her iPhone, and stayed with me the whole time, I was able to see the Funeral mass for my Wife. It was almost like being there. I can't thank (this nurse) enough for going above and beyond her nursing duties to allow me the opportunity to share in my wife's funeral. I am very thankful for the kindness she showed during my time of loss."
January 2020
Greg Dugan, BSN, RN, CCRN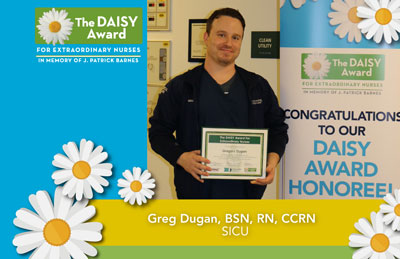 Here is the nomination Greg received: "To begin, I want to state all your staff provided excellent and professional care to my husband during his stay in ICU, but one nurse in particular stood out from the group. His name is Greg Dugan. Not only did he provide excellent care bur Greg also provided emotional support to Scott. There was no task he would not do for Scott from shaving him when asked to all his hygiene needs. There were a few days when Scott became very confused due to medications and the ICU environment itself, which we were told to expect. Greg could bring Scott back to reality simply by discussing music, favorite bands, cars (which is a favorite hobby of Scotts) and local restaurants. He just took the extra time and caring to do this for him whenever he would drift away. We appreciated this beyond words. It made Scott's recovery so much easier and smoother. The psychological support was as important as the physical support. He was outstanding. Greg even stopped to encourage Scott once he was moved to his next recovery room!"
December 2019
Erin Schnaubelt, BSN, RN, CMSRN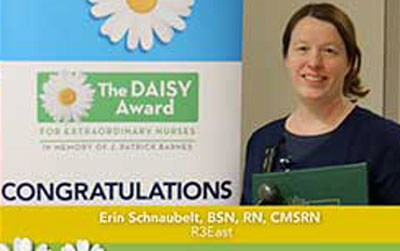 Here is the nomination Erin received: "Erin made me feel like I was special, but I get the feeling that she treats all her patients that way. when I told her how much I really wanted to go home and how much I missed my dog Gracie, she asked me to send her a photo of Gracie. Then she printed a picture of Gracie so I could look at her any time I wanted while I was here. She really made my day and made my stay here a little easier. It was just a small gesture, but it was something I really appreciated."