The DAISY Award honors and celebrates the skillful and compassionate care nurses provide every day.
March 2020
Congratulations to Brittany Dugan BSN, RN from N2W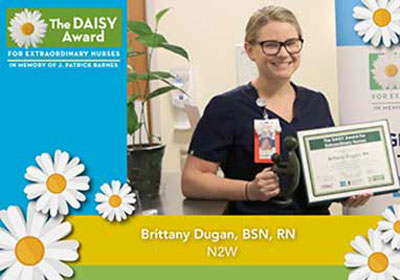 My wife of 63 years died on December 18, 2019, While I was a patient in N2. Her funeral was held on December 27th and I was not able to be there. Brittany was my nurse and knowing that I would have to miss my wife's funeral mass, came up with a great idea that would allow me to be there using Facetime. After contacting my daughter with the suggestion, the funeral Director John Lutz called ( this nurse) to make sure the Facetime connection would work. IT DID! Thanks to (this nurse) who allowed me to use her iPhone, and stayed with me the whole time, I was able to see the Funeral mass for my Wife. It was almost like being there. I can't thank (this nurse) enough for going above and beyond her nursing duties to allow me the opportunity to share in my wife's funeral. I am very thankful for the kindness she showed during my time of loss.
January 2020
Greg Dugan, BSN, RN, CCRN from SICU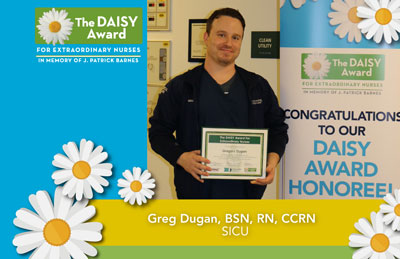 To begin, I want to state all your staff provided excellent and professional care to my husband during his stay in ICU, but one nurse in particular stood out from the group. His name is Greg Dugan. Not only did he provide excellent care bur Greg also provided emotional support to Scott. There was no task he would not do for Scott from shaving him when asked to all his hygiene needs. There were a few days when Scott became very confused due to medications and the ICU environment itself, which we were told to expect. Greg could bring Scott back to reality simply by discussing music, favorite bands, cars (which is a favorite hobby of Scotts) and local restaurants. He just took the extra time and caring to do this for him whenever he would drift away. We appreciated this beyond words. It made Scott's recovery so much easier and smoother. The psychological support was as important as the physical support. He was outstanding. Greg even stopped to encourage Scott once he was moved to his next recovery room!
December 2019
Erin Schnaubelt BSN, RN, CMSRN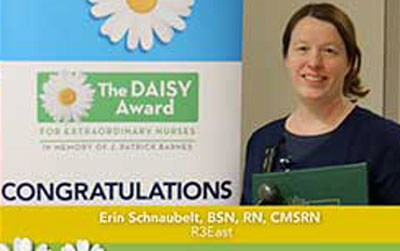 Erin made me feel like I was special, but I get the feeling that she treats all her patients that way. when I told her how much I really wanted to go home and how much I missed my dog Gracie, she asked me to send her a photo of Gracie. Then she printed a picture of Gracie so I could look at her any time I wanted while I was here. She really made my day and made my stay here a little easier. It was just a small gesture, but it was something I really appreciated.