Every year, it is our pleasure to honor the outstanding nurses who are the lifeblood of Reading Hospital. This year, we are especially happy to join the American Nurses Association by expanding Nurses Week to an entire month-long tribute! We can think of no better way to recognize all of the hardworking nurses for their contributions especially after this past year!
Each week throughout the month of May, we encourage you to honor nurses who made a real difference during your hospital stay - by following each week's theme. Just as nurses care for their patients, we encourage you to practice and promote self-care (Week 1), recognize others for their hard work (Week 2), continue to learn and inspire others (Week 3), and engage with your community (Week 4).
Week 1 - Self-Care (May 1-9)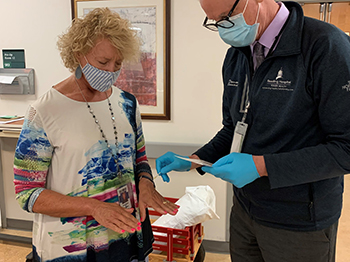 Blessing of the Hands
Reading Hospital kicks off Nurses Month with Chaplain Thomas Adil, Director of Chaplaincy Services, by offering a special blessing of the hands. This nondenominational act recognizes and unites healthcare workers who've chosen the shared journey of caring for patients.
Magnet Recertification
This week also kicks off Reading Hospital's Magnet recertification. In 2016, Reading Hospital was designated Magnet™ in recognition of excellence in nursing practice, patient care delivery, unit level quality outcomes, patient experience, and interprofessional collaboration.
During the past four years, the entire nursing team and our interprofessional colleagues not only maintained, but continued to improve, this high level of excellence. The extraordinary care provided during this past year of unprecedented COVID-19 pandemic challenges reflects that our nursing team and their colleagues are so committed to providing the absolute best care for our patients, our community, and each other.
Our Magnet™ writing team prepared and submitted our redesignation document. The document, submitted in December, contained more than 120 examples of how our team meets and exceeds the Magnet standards of excellence. Our Magnet document is filled with the stories of how individuals, unit care teams, interprofessional teams, and our councils improve patient care and professional practice.
Learn more about Reading Hospital's Magnet status in this video.
Week 2 - Recognition (May 10-16)
Join us in recognizing the critical work nurses do by honoring exemplary nurses.
DAISY Award Winners
Our nurses are frequently recognized by our patients and their grateful families for the care they received. Here are the most recent nursing recipients who have been recognized with a National DAISY Award.
Behind The Mask
Reading Hospital is fortunate to have many outstanding employees who have provided exceptional care to our community. We are grateful for their continued service and are proud to feature them in our Behind The Mask Campaign on social media. 

Appreciation Stations
Hospital staff and nursing colleagues are taking time to honor each other with thank you cards that are available throughout the hospital. This week provides an opportunity to show gratitude to our nurses for their strength, perseverance, and compassion. If you wish to share your appreciation for our nurses, please share your story or write a personalized message for us to share with the recognized nurse.
Week 3 - Professional Development (May 17-23)
As part of Nurses Month, our colleagues will focus on how to excel and lead in their careers or inspire and help others in their professional nursing journey.
Nursing Excellence
Reading Hospital Foundation's Nursing Excellence Fund was recently established to expand learning opportunities for nurses. Reading Hospital has a rich history of providing nurses opportunities to learn, grow, and demonstrate professional excellence. It is critical for nurses to be well-trained and equipped to provide the highest levels of care in the face of evolving technology, case complexity, and the demands of highly specialized care programs. The Fund will be used for equipment that supports learning for procedural advancements, supplemental coursework, supportive roles in nursing, and sending nurses to conferences to learn new and innovative patient-centric care advancements. To recognize a Reading Hospital nurse and donate to the Nursing Excellence fund, visit our gift page.
Week 4 - Community Engagement (May 24-31)
For the final week of Nurses Month, join us in promoting the invaluable contributions our nurses provide by engaging with your community and educating them on what nurses do.
Educational Posters and Quizzes
Reading Hospital nurses welcome the opportunity to engage our colleagues and community by sharing posters as well as quick and fun quizzes to educate everyone on the many aspects of being a registered nurse. Click here to download the PDF.