Membership in the network is open to any physician willing to become a partner in the pursuit of clinically integrated care for patients. Every participating physician must meet the following criteria:
A member in good standing with staff privileges at an affiliated hospital
Fully credentialed by appropriate credentialing bodies
Currently using ePrescribing and disease registries, or committed to use in the future
Active use of an EMR or other electronic clinical documentation system, or committed to use in the future
Adherence to clinical integration policies and procedures
Willingness to interface electronically with the network to share clinical quality data
Requests to join the network are reviewed and vetted by governing committees led by THP physician members.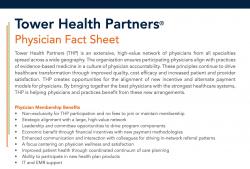 Tower Health Providers (THP) is an extensive, high-value network of physicians from all specialties
spread across a wide geography. The organization ensures participating physicians align with practices of evidence-based medicine in a culture of physician accountability.
Download the PDF