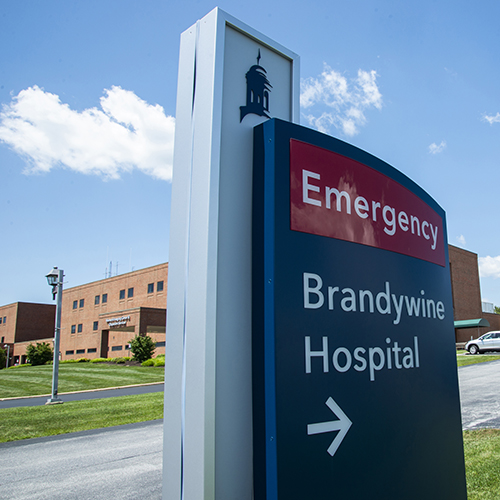 West Reading, PA., December 1, 2020 – Brandywine Hospital – Tower Health reminds community members to call 9-1-1 if they are experiencing symptoms of heart attack. EMS can begin the immediate life-saving care needed while the patient is being transported to the hospital.
Earlier this year, Tower Health announced that cardiac catherization services at Brandywine Hospital will close permanently on Friday, December 11. This action will allow the Hospital to focus resources on other areas of clinical strength and community need. After the closure of the cardiac catheterization services, if a patient arrives at the emergency department with heart attack symptoms, they will be stabilized and TowerDIRECT will coordinate transfer to either Phoenixville Hospital or Reading Hospital, both of which have much larger cardiac catheterization programs. Both Phoenixville and Reading have been recognized by the American Heart Association and the Joint Commission for their outstanding quality and timely care of patients with heart attacks.
"If you are experiencing heart attack symptoms, it is critical to call 9-1-1 immediately," said Claire Mooney, DNP, MBA, RN, CCRN, NEA-BC, Brandywine Hospital President and CEO. "Our EMT and paramedic partners provide life-saving treatment of heart attack en route to the nearest hospital. They also perform an electrocardiogram and send it to emergency department physicians for evaluation. If a heart attack is suspected, the emergency team can mobilize and prepare for the arrival of the patient."
A heart attack happens when a blood vessel supporting the heart is blocked. When the heart doesn't receive blood, it causes the muscle to die. Immediate treatment is needed to prevent death or prevent permanent damage to the heart. Symptoms of a heart attack include:
Pain or discomfort in the center of the chest that lasts more than a few minutes, or it goes away and comes back. 

Pain or discomfort in your arms, back, neck, jaw, or stomach. 

Difficulty breathing. This can happen with or without chest pain or pressure. 

Lightheadedness, nausea, and sweating.
Although chest pain is a common symptom, some people don't experience it during a heart attack. Heart attack symptoms may also vary for women. The most common heart attack symptom for women is chest pain or pressure, but women are more likely than men to experience:
Anxiety 

Indigestion, nausea, or vomiting 

Jaw or back pain 

Shortness of breath 

Sleep disturbances 

Weakness, fatigue, body aches, or an overall feeling of illness (without chest pain)
About Brandywine Hospital
Located in Chester County, Pa., and a member of Tower Health, Brandywine Hospital is a nonprofit, 171-bed acute-care hospital with private rooms that has been providing high-quality, compassionate care in the community for more than 100 years. The hospital's key services include cardiology, emergency medicine, orthopedics, behavioral health (adult, older adult), general and robotic surgery, specialized care for eating disorders, and outpatient services (radiology/women's imaging, laboratory, cardio-pulmonary, occupational, physical and speech therapy, primary care, and wound care). Fully accredited by The Joint Commission, Brandywine Hospital is also an accredited Chest Pain Center by the American Academy of Cardiology and the recipient of The Joint Commission's Gold Seal of Approval for excellence in acute myocardial infarction, hip replacement, knee replacement, stroke, and wound care. For more information, visit https://www.towerhealth.org/locations/brandywine-hospital.