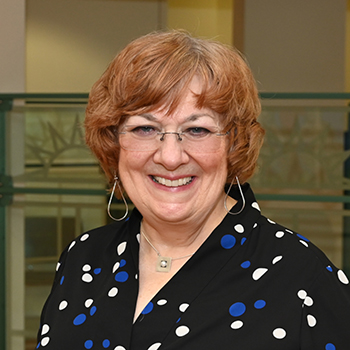 The National Kidney Foundation (NKF) has awarded Susan B. Conley, MD, their prestigious Excellence in Care Award, which will be presented during the Foundation's virtual Eve of Giving event on March 11. Dr. Conley is board-certified in pediatrics and pediatric nephrology and is an attending nephrologist at St. Christopher's Hospital for Children.  She is also a professor of pediatrics at Drexel University College of Medicine. She is consistently named a Top Doc by Philadelphia Magazine.
"Sue's commitment to the kidney program at St. Christopher's has led to the reinvigoration of our transplant program; taught numerous fellows, residents, and students; and improved the lives of many children," said Joshua Zaritsky, MD, Chief of the Section of Nephrology at St. Christopher's.
Eve of Giving (formerly known as NKF Honors) is the NKF's awards reception and fundraiser held in celebration of World Kidney Day annually for 38 years. The benefit honors members of the local community who have been outstanding in promoting kidney health and the fight against kidney disease. The dollars raised from this event will support the NKF's awareness, prevention, and treatment efforts.  
"The National Kidney Foundation has been an important partner in advancing the field of nephrology and for me personally," said Dr. Conley. "NKF has had a major role in training many nephrologists. I know firsthand all of the important work they do, including education of professionals, patients, and the public; extensive patient support; and research support. I have also served as regional president of two of the five national regions of the organization."
The event coincides with World Kidney Day on March 11. St. Christopher's has joined World Kidney Day's global campaign to raise awareness of our kidneys' importance to overall health and reduce the frequency and impact of kidney disease and associated health problems worldwide. In Philadelphia, the Benjamin Franklin Bridge, the Philadelphia Airport, Wells Fargo Center, and more will light up in orange at night, the signature color for kidney disease.
Two additional awards will be presented during the event. Anthony F. Naccarato, PE, SECB, president of O'Donnell & Naccarato will be presented with the Arthur P. Pasquarella Leadership in Action Award; and Ellie Kelepouris, MD, FAGA, FACP, Professor of Clinical Medicine at the Perelman School of Medicine, University of Pennsylvania, will be presented with an Excellence in Care Award.
The National Kidney Foundation serves as a lifeline for all people affected by kidney disease. As pioneers of scientific research and innovation, NKF focuses on the whole patient through the lens of kidney health, enhancing lives through action, education, and accelerating change. They also offer an online community for parents of children with kidney disease to share experiences and ask questions. Activities, resources and engaging videos for parents and children can be found on www.kidney.org/yourkidneysandyou/kids.