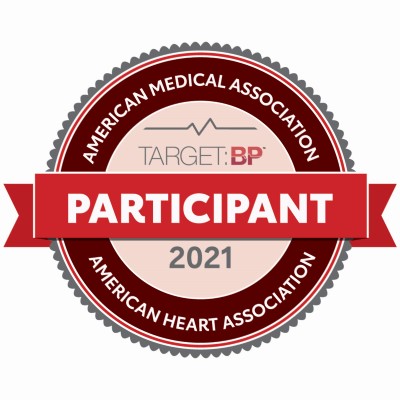 Chestnut Hill Hospital has been recognized by the American Heart Association (AHA) and American Medical Association (AMA) for its commitment to helping improve blood pressure (BP) control rates among the patient populations in Northwest Philadelphia and Eastern Montgomery County. Chestnut Hill Hospital earned Silver level recognition as part of the 2021 Target: BP™ Recognition Program.  
Hypertension (high BP) is a leading risk factor for heart attacks, strokes, and preventable death in the U.S. In addition, there are 121.5 million U.S. adults living with high BP and less than half of those people have their BP under control - making both diagnosing and effectively managing hypertension critical. The U.S. Centers for Disease Control and Prevention states that heart disease and stroke continue to kill more people in the U.S. than other causes.
"High blood pressure is a leading risk factor of heart disease and stroke that can often be prevented or managed if diagnosed and treated properly," says Melissa Leach, DNP, RN, Stroke and Chest Pain Coordinator, Chestnut Hill Hospital. "Addressing blood pressure management is key for better cardiovascular health – and critical today since heart disease and strokes continue to be a leading cause of death for Americans."  
Target: BP is a national collaboration between the AHA and the AMA, aimed at reducing the number of Americans who suffer from heart attacks and strokes each year by urging physician practices, health systems, and patients to prioritize BP control. The initiative aims to help healthcare organizations improve blood pressure control rates through use of AMA MAP BP™ evidence-based protocols and recognizes Chestnut Hill Hospital's commitment to improving blood pressure control.
About Chestnut Hill Hospital
Located in the Chestnut Hill section of Philadelphia and a member of Tower Health, Chestnut Hill Hospital is a 148-bed, community-based, university-affiliated, teaching hospital committed to excellent patient-centered care. Chestnut Hill Hospital provides a full range of inpatient and outpatient, diagnostic and treatment services for people in northwest Philadelphia and eastern Montgomery County. With more than 300 board-certified physicians, Chestnut Hill Hospital's specialties include minimally invasive laparoscopic and robotic surgery, cardiology, gynecology, oncology, orthopedics, urology, family practice and internal medicine. Chestnut Hill Hospital is accredited by The Joint Commission and is affiliated with university-hospitals in Philadelphia for heart and stroke care and residency programs. For more information, visit www.towerhealth.org.