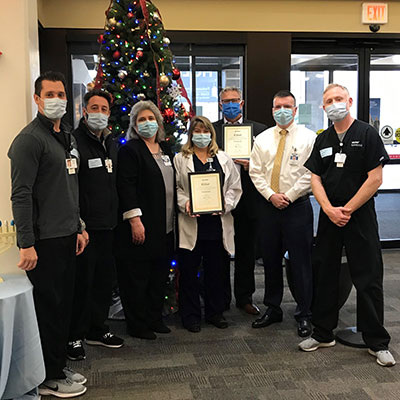 POTTSTOWN, PA – December 2020 – Pottstown Hospital was awarded the Gold Healthy Hospital Award from Stryker Sustainability Solutions. Stryker Sustainability Solutions is the leading provider of reprocessing and remanufacturing services for single-use medical devices.
Reprocessing of single-use medical devices is the practice of inspecting, cleaning, function testing, sterilizing, and packaging so devices can be clinically and safely used again.
This award is reserved for hospitals with outstanding performance in environmental sustainability and improvement in overall hospital quality through medical device remanufacturing and reprocessing.
Pottstown Hospital is proud to be recognized for its waste reduction efforts and sustainable healthcare practices.
Since 2016, Pottstown Hospital has participated in this reprocessing program and in 2020 successfully diverted 6,100 pounds of medical waste from landfills, thereby reducing its supply costs by nearly $150,000. "This savings allowed our hospital executive team to reallocate the savings to support quality patient care and advanced technology initiatives," said Richard Newell, MPT, DPT, President and Chief Executive Officer of Pottstown Hospital.
About Pottstown Hospital
Located in Pottstown, Pa., and a member of Tower Health, Pottstown Hospital is a 232-bed hospital that offers a full range of health services, including inpatient and outpatient, medical and surgical, and diagnostic and emergency care. Accredited by The Joint Commission, Pottstown Hospital has been recognized for its quality outcomes and clinical expertise across many service lines. The Hospital is Joint Commission-certified for hip and knee replacement and is also an accredited Chest Pain Center. Recently, Pottstown Hospital was recognized as a recipient of the 2020 Get With The Guidelines®-Stroke Gold Plus & Target: Stroke Honor Roll Elite Award by the American Heart Association/American Stroke Association.
The Cancer Center at Pottstown Hospital is also nationally recognized, bringing over a decade of award-winning care to our region. The Pottstown Hospital Emergency Department, a Primary Stroke Center, is the second busiest in Montgomery County, seeing more than 45,000 patients a year. For more information, visit https://towerhealth.org/locations/pottstown-hospital.