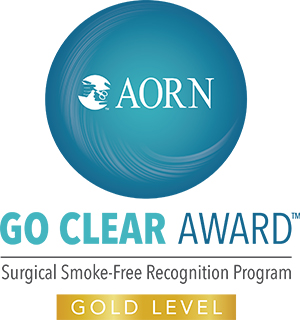 POTTSTOWN, PA – January 2021 - Pottstown Hospital – Tower Health has earned the Gold Level Go Clear Award™ from the Association of periOperative Registered Nurses (AORN) for its achievement in eliminating hazardous smoke generated during surgical procedures. It is one of only a few hospitals in the state to earn this national recognition.
To qualify for the award, Pottstown Hospital staff underwent comprehensive surgical smoke education and testing, and leadership invested in medical devices and resources necessary to remove the smoke generated during surgeries.
"Implementing practices that eliminate smoke caused by the use of lasers and electrosurgery devices during surgery is part of our focus on increasing safety throughout our organization," said Richard Newell, MPT, DPT, President and Chief Executive Officer of Pottstown Hospital. "I congratulate our surgery team on the outcome of their combined effort dedicated to creating an environment that protects staff and patients."
During surgery, lasers or other surgical devices that are used produce smoke, which can obstruct surgeons' views and often contain toxic gases and particles. Inhalation and absorption of surgical smoke pose serious health risks. AORN created the Go Clear program to help hospitals develop surgical smoke evacuation procedures.
"While there is no mandatory compliance requirement in the state to eliminate smoke during surgeries, we want to set the example for other hospitals to see that it is a worthy and achievable goal," said Newell.
About Pottstown Hospital
Located in Pottstown, Pa., and a member of Tower Health, Pottstown Hospital is a 232-bed hospital that offers a full range of health services, including inpatient and outpatient, medical and surgical, and diagnostic and emergency care. Accredited by The Joint Commission, Pottstown Hospital has been recognized for its quality outcomes and clinical expertise across many service lines. The hospital is Joint Commission-certified for hip and knee replacement and is also an accredited Chest Pain Center. Recently, Pottstown Hospital was recognized as a recipient of the 2020 Get With The Guidelines®-Stroke Gold Plus & Target: Stroke Honor Roll Elite Award by the American Heart Association/American Stroke Association.
About AORN
AORN represents the interests of more than 160,000 perioperative nurses by providing nursing education, standards and practice resources — including the peer-reviewed, monthly publication AORN Journal — to enable optimal outcomes for patients undergoing operative and other invasive procedures. AORN's 40,000 registered nurse members manage, teach and practice perioperative nursing, are enrolled in nursing education or are engaged in perioperative research.