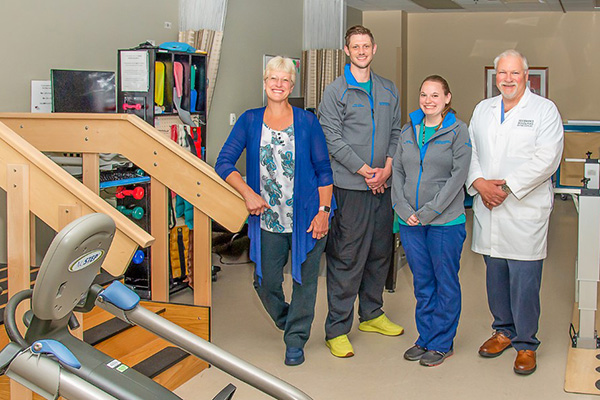 Phoenixville, PA., November 2020 - For the fourth year in row, Rehabilitation at Phoenixville Hospital is pleased to announce that it ranked in the top 10 percent of 868 inpatient rehabilitation facilities (IRFs) that qualified to be ranked in the IRF database of Uniform Data System for Medical Rehabilitation (UDSMR) for cases discharged between January 2019 and September 2019.
"Phoenixville Hospital is incredibly proud of our inpatient rehabilitation program," said Phoenixville Hospital President and CEO Steve Tullman, MBA. "To be recognized in the top 10 percent of the nation for the past four years is a true testament to our Rehab team and the outstanding care they provide to our patients."
The rankings were determined by using UDSMR's program evaluation model (PEM). The goal of the PEM Report Card is to recognize high-performing facilities for their delivery of quality patient care that is effective, efficient, timely, and patient-centered.
"Our team is honored to be recognized as one of the top 10 percent of inpatient rehabilitation facilities in the nation again this year," said Holly Younker, PT, Director, Rehabilitation at Phoenixville Hospital. "We are privileged to care for our patients who entrust our team to help get them back to the lives they love."
"To recognize the efficient and effective care it provides to its patients, we are pleased to present this award to Rehabilitation at Phoenixville Hospital," said Troy Hillman, Manager of the Analytical Services Group at UDSMR. "As the creator and caretaker of the nation's largest database of rehabilitation outcomes, and with over thirty years of experience and data, UDSMR continues working with the industry to establish best practices. The PEM Report Card has served as a tool for identifying and recognizing high-performing facilities, working with them to learn how they provide efficient and effective care, and sharing what we learn with others to elevate the performance of all. We look forward to working with Rehabilitation at Phoenixville Hospital and the other top-performing facilities across the country to improve care in all inpatient rehabilitation facilities."
About Phoenixville Hospital
Located in Phoenixville, Pa., and a member of Tower Health, Phoenixville Hospital is a 144-bed facility that provides comprehensive medical services through emergency room visits, inpatient admissions, outpatient procedures and community outreach programs. Phoenixville Hospital's services include an award-winning cardiovascular program, a fully accredited cancer center, NAPBC-accredited breast health center, an acute inpatient rehabilitation center, and a large robotic surgery center. Phoenixville Hospital is accredited by The Joint Commission and has been recognized for its quality outcomes and clinical expertise across services lines that include joint replacement surgery, advanced heart failure care, and the designation as a Primary Stroke Center. For more information, visit www.towerhealth.org.
About UDSMR
Uniform Data System for Medical Rehabilitation (UDSMR) is a division of UB Foundation Activities Inc., a not-for-profit corporation affiliated with the University at Buffalo, The State University of New York. Founded in 1988, UDSMR administers the world's largest medical rehabilitation database, and its instruments provide the field with a common language and measurement tools for outcomes and functional assessment.