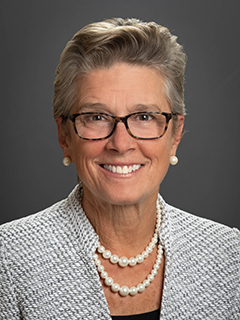 The Tower Health Board of Directors today announced that the health system has signed a contract with Tower Health president and CEO P. Sue Perrotty, ensuring she will remain with the organization until the completion of its financial and strategic turnaround.
Prior to stepping into the role of interim president and CEO in February 2021, Perrotty served on Tower Health's board since 2019. Under her tenure, Tower Health's ongoing financial turnaround has gained momentum, culminating recently with the organization's first positive quarterly financial performance in more than two years.  
"Sue is a natural leader who has admirably stepped into this role with unwavering dedication and commitment to our organization," said Tom Work, chair of Tower Health's Board of Directors. "Over her impressive career, Sue has shown a unique ability to inspire and motivate people around a shared goal. Sue has done exactly that as she quickly established a culture of meaningful communication to enhance Tower Health's clinical services, drive innovation, and strengthen our service to the community."
A banking and finance veteran with decades of leadership experience, Perrotty has overseen multi-billion-dollar business operations, managed several mergers, and advised businesses of all sizes in the Reading community, Philadelphia, and beyond.
"I am thrilled to solidify my role at Tower Health, focusing on building a sustainable future for the health system," said Perrotty. "From the first day I started in this role, I have been amazed and inspired by the talented people who have worked tirelessly to help us make significant strides in our turnaround efforts. Hard work certainly lies ahead, and I'm grateful and excited to be part of such a strong team."
About Tower Health
Tower Health is a strong, regional, integrated healthcare provider/payer system that offers leading-edge, compassionate healthcare and wellness services to a population of 2.5 million people. With approximately 14,000 team members, Tower Health consists of Reading Hospital in West Reading; Brandywine Hospital in Coatesville; Chestnut Hill Hospital in Philadelphia; Jennersville Hospital in West Grove; Phoenixville Hospital in Phoenixville; Pottstown Hospital in Pottstown; and St. Christopher's Hospital for Children, a partnership of Tower Health and Drexel University in Philadelphia. It also includes Reading Hospital Rehabilitation at Wyomissing; Reading Hospital School of Health Sciences in West Reading; home healthcare services provided by Tower Health at Home; and a network of 25 urgent care facilities across the Tower Health service area. Tower Health offers a connected network of 2,200 physicians, specialists, and providers across more than 230 convenient locations. For more information, visit towerhealth.org.