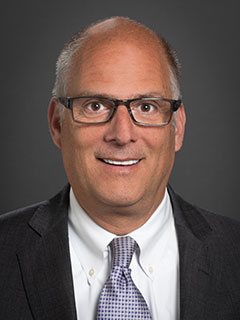 West Reading, PA., January 3, 2020 - Charles Barbera, MD, has been named Vice Chairman of the Pennsylvania Trauma Systems Foundation (PTSF) Board of Directors for a one-year term. The appointment is effective January 1, 2020. Dr. Barbera will also serve as the Chair of the Standards Committee and serve on the Executive Committee. He joined the PTSF Board in 2013 after being nominated by the Pennsylvania College of Emergency Physicians.
The Pennsylvania Trauma Systems Foundation is the accrediting body for trauma centers throughout the Commonwealth of Pennsylvania. The Foundation was created through the combined efforts of the Pennsylvania Medical Society and The Hospital & Healthsystem Association of Pennsylvania, along with the Pennsylvania State Nurses Association, the Pennsylvania Emergency Health Services Council, and the Pennsylvania Department of Health.
"It is an honor to serve as Vice Chair for the Pennsylvania Trauma Systems Foundation Board of Directors," said Dr. Barbera. "I look forward to working with the entire board to fulfill the organization's mission to provide optimal outcomes for every injured patient in the commonwealth."
Dr. Barbera serves as Vice President, Pre-Hospital and Unscheduled Care at Tower Health and Chair, Department of Emergency Medicine at Reading Hospital. He also serves as the Vice Chair of the Reading Hospital Board of Trustees and is a member of the Board of Trustees at Alvernia University, Threshold Rehabilitation Services, and the Borough of Wyomissing Recreation. He previously served as the president of Pennsylvania College of Emergency Physicians and The Berks County Medical Society and on the boards of Autism Society of Berks County, American Heart Association, and the Children's Home of Reading.
He received his MBA from Alvernia University, his Doctor of Medicine from Temple University School of Medicine, and his Bachelor of Arts degree in Communication Arts from LaSalle University.

About Tower Health
Tower Health is a strong, regional, integrated healthcare provider/payer system that offers leading-edge, compassionate healthcare and wellness services to a population of 2.5 million people. With more than 14,000 team members, Tower Health consists of Reading Hospital in West Reading; Brandywine Hospital in Coatesville; Chestnut Hill Hospital in Philadelphia; Jennersville Hospital in West Grove; Phoenixville Hospital in Phoenixville; Pottstown Hospital in Pottstown; and St. Christopher's Hospital for Children, a partnership of Tower Health and Drexel University in Philadelphia. It also includes Reading Hospital Rehabilitation at Wyomissing; Reading Hospital School of Health Sciences in West Reading; home healthcare services provided by Tower Health at Home; and a network of 22 urgent care facilities across the Tower Health service area. Tower Health offers a connected network of 2,200 physicians, specialists, and providers across more than 230 convenient locations. For more information, visit towerhealth.org.