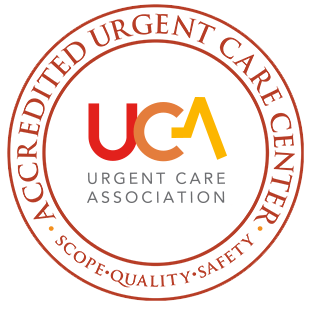 Tower Health announced today that all 26 Tower Health Urgent Care facilities have achieved Accreditation from the Urgent Care Association (UCA), which is the highest level of distinction for urgent care centers. This recognition was earned after a comprehensive survey, which included onsite visits and virtual surveys with staff members by UCA Accreditation surveyors. This accreditation ensures all Tower Health Urgent Care locations have met all UCA's standards and criteria for quality of patient care, safety, and scope of services. This is the second consecutive accreditation as Tower Health Urgent Care.
Tower Health Urgent Care also received "Antibiotic Stewardship Commendation" for meeting the additional requirements necessary for responsible prescribing of antibiotics.
"Safety is always the top priority for our team members and this important recognition from the Urgent Care Association demonstrates that their efforts in caring for our patients have been recognized," said P. Sue Perrotty, President and CEO, Tower Health. "I thank the team at Tower Health Urgent Care for their ongoing dedication to providing high-quality care to our communities."
All Tower Health Urgent Care (THUC) facilities provide walk-in care for a variety of conditions, including: colds, flu, allergies, asthma, sore throat, sports injuries, minor lacerations, sprains, earaches, and preventative services such as physicals, vaccines, and occupational health. The Tower Health Urgent Care team includes board-certified Physicians Advance Practice Providers, nurses, and other clinical and administrative staff. To provide fully integrated care, all Tower Health Urgent Care Centers use Epic, the electronic medical record in use across Tower Health.
Urgent Care is an essential link in Tower Health's continuum of care, providing convenient access to skilled and compassionate care at our urgent care locations across Berks, Chester, Montgomery, Philadelphia, Delaware, Bucks, Northampton, and New Castle counties. Learn more about Tower Health Urgent Care and all the services offered by visiting towerhealth.org/services/urgent-care.
About Tower Health
Tower Health is a regional integrated healthcare system that offers leading-edge, compassionate healthcare and wellness services to communities in Berks, Chester, Montgomery, and Philadelphia Counties. With nearly 12,000 team members, Tower Health consists of Reading Hospital in West Reading; Chestnut Hill Hospital in Philadelphia; Phoenixville Hospital in Phoenixville; Pottstown Hospital in Pottstown; and St. Christopher's Hospital for Children, a partnership of Tower Health and Drexel University in Philadelphia. It also includes Reading Hospital Rehabilitation at Wyomissing; Reading Hospital School of Health Sciences in West Reading; home healthcare provided by Tower Health at Home; TowerDirect ambulance and emergency response; Tower Health Medical Group; and a network of 25 urgent care facilities across the Tower Health service area. For more information, visit towerhealth.org.