Welcome to Brandywine Physical Therapy and Hand Rehabilitation, we offer the following services:
Orthopedic Rehabilitation - treating neck and back injuries and conditions; joint replacements; shoulder rehabilitation including throwing injuries; hip, knee, and ankle rehabilitation with return to sports programs; foot orthotic fitting to support foot pain
Hand Rehabilitation - certified hand therapists offering post-surgical and overuse rehabilitation programs including custom splint fabrication
Vestibular and Balance Program - specially trained therapists treating vestibular and related conditions utilizing advanced video infrared testing
Work Injury Rehabilitation - including simulated work stations to facilitate return to work
Stroke and Neurological Rehabilitation - for shoulder, hip, and knee
Cardiopulmonary Rehabilitation - telemetry monitored cardiac and pulmonary rehabilitation
Experienced Staff
Doctorate degree Physical and Occupational Therapists
Certified Hand Therapists 
Therapists with athletic training degrees and professional sports experience 
Therapists with specialized training in sports injury management, Vestibular rehabilitation, Parkinson's rehabilitation, Stroke rehabilitation, orthotic and splint fabrication 
Nurses and Exercise Physiologists with specialized cardiopulmonary rehabilitation training.
State of the art facility 
7,000 sq. ft exercise training facility 
Hand Rehabilitation Center 
Vestibular and Balance Center 
Work Injury Simulation Stations 
Sports functional training area 
Updated modality and exercise equipment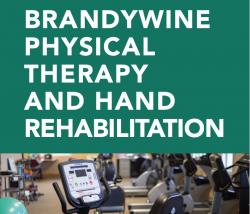 To learn about our services and treatment options, download the full print brochure.
Download the PDF