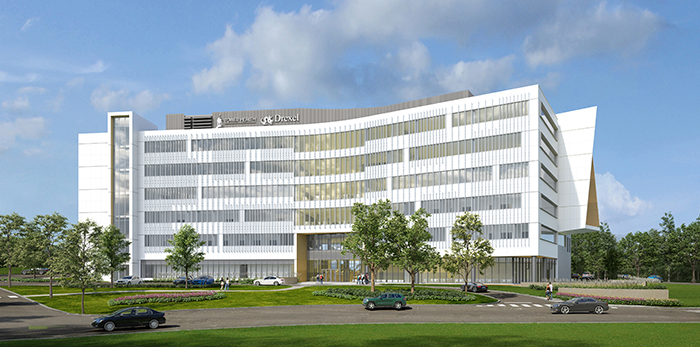 On Tuesday, July 27, Drexel University College of Medicine will celebrate the opening of a new four-year regional medical campus, located at 50 Innovation Way, Wyomissing, PA., in collaboration with Tower Health. Remarks and a ribbon cutting will begin at 10 a.m. Remarks will be made by Karen Restifo, MD, JD, Regional Vice Dean, Drexel University College of Medicine at Tower Health; John Fry, President, Drexel University; P. Sue Perrotty, Tower Health President and CEO, and Charles B. Cairns, MD, Dean and Senior Vice President of Medical Affairs, Drexel University College of Medicine.
Reporters are invited to attend the event. Please confirm attendance with Jessica Bezler via email or phone at 717-380-4319. In accordance with CDC and Pennsylvania Department of Health recommendations, all patients, visitors, and employees are required to wear a mask while inside any Tower Health facility. This includes individuals who are partially or fully vaccinated against COVID-19.
The College of Medicine will welcome its inaugural class of 40 first-year medical students at the campus on August 2. Drexel medical students already receive training from faculty physicians at Reading Hospital, the flagship hospital of Tower Health, which is less than one-mile walking distance to the new campus.
The new, state-of-the-art academic building houses standardized patient exam rooms, an anatomy laboratory, small group learning areas, and simulation labs that promote interdisciplinary education. In addition, the building was designed to enhance student life with a focus on student health and wellness and encourage immersive learning experiences. Students have access to a fitness center, information commons (library), lounge areas, a game room, and café.
The facility consists of:
A total of 2,636,000 pounds of structural steel

A total of 2,300 cubic yards of foundation concrete

A total of 290,000 pounds of foundation reinforcing bar

More than 15,000 sheets of drywall

A total of 150,000 feet of electrical conduit

More than 75,000 feet of mechanical and plumbing piping

More than 2,000 gallons of paint
"Our medical students have been receiving their clinical education at Reading Hospital through a long-standing academic affiliation agreement and have been making an impact on medical care in Berks County for decades," said Mr. Fry. "Our new campus will increase their engagement with both patients and the community, and provide greater opportunities to train and go on to be leaders in medicine, especially in areas in need of more physicians."
"This facility would not be possible without the dedication and support of our community and business leaders. I want to especially thank Senator Judy Schwank, Representative Mark Gillen, Berks County Commissioners Christian Leinbach, Kevin Barnhardt, and Michael Rivera, the Borough of Wyomissing, Equus Capital Partners, Ltd., and the leadership teams at Tower Health and Drexel University," said Ms. Perrotty. "Because of their foresight and commitment, our community now offers future physicians the opportunity to learn and train in a state-of-the-art medical school and, at Reading Hospital. We are building both the future of our health care and a positive economic impact for the entire region." 
Click here to download a timeline of Drexel University College of Medicine at Tower Health.
Photos from the event will be available upon request. 
About Tower Health
Tower Health is a strong, regional, integrated healthcare provider/payer system that offers leading-edge, compassionate healthcare and wellness services to a population of 2.5 million people. With approximately 14,000 team members, Tower Health consists of Reading Hospital in West Reading; Brandywine Hospital in Coatesville; Chestnut Hill Hospital in Philadelphia; Jennersville Hospital in West Grove; Phoenixville Hospital in Phoenixville; Pottstown Hospital in Pottstown; and St. Christopher's Hospital for Children, a partnership of Tower Health and Drexel University in Philadelphia. It also includes Reading Hospital Rehabilitation at Wyomissing; Reading Hospital School of Health Sciences in West Reading; home healthcare services provided by Tower Health at Home; and a network of 25 urgent care facilities across the Tower Health service area. Tower Health offers a connected network of 2,200 physicians, specialists, and providers across more than 230 convenient locations. For more information, visit towerhealth.org. 
About the Drexel College of Medicine
The College of Medicine currently educates more than 2,000 future physicians, biomedical scientists and health professionals. It offers some of the most innovative and rigorous academic programs available, incorporating Drexel's expertise in engineering and technology into patient-centered medical training. The College is home to one of the nation's leading centers for spinal cord research; one of the foremost centers for malaria study; and a highly regarded HIV/AIDS program with extensive NIH-funded research in prevention and therapeutic interventions. For more information, visit Drexel.edu/medicine.