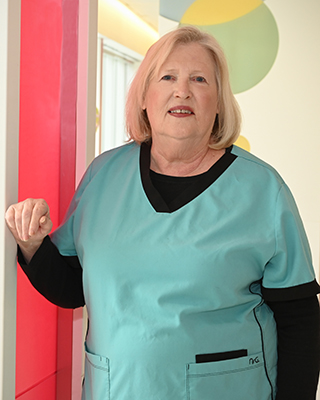 Christina Drass, RN, began her career at St. Christopher's Hospital for Children in 1971.  
What departments have you worked in during your tenure at the hospital? 
Currently, I work in the vascular access department, also known as the IV Team. When I first started working at the hospital, I was in the Medical/Surgical (Med/Surg) unit and then transferred to the Emergency Department (ED), where I worked for 29 years. I saw a lot during that time! 
Why did you want to be a nurse? 
The summer between my sophomore and junior year of high school, I volunteered at St. Christopher's as a candy striper, and it was so much fun. They taught us so much. I had the opportunity to learn how to properly bathe the children and take their temperatures. I played with them and changed diapers. Other volunteers did office work, but I always chose to be on the floor with the kids.  
When I got out of high school, I was doing office work and I knew it wasn't for me. I quit after a few months when I saw an opening for an LPN program. I applied and got it. I originally worked at another hospital and after the birth of my first child, I transferred to St. Christopher's. I always knew I wanted to work at St. Christopher's. 
Why do you love working at St. Christopher's? 
When I first started at the hospital, I met the greatest people and I had the opportunity to get to know them and form really great relationships. The children we care for are so sweet. 
I've been at the hospital for more than 50 years and just when think you've seen it all, something new happens. The modality of treatments has improved so much. It's a true miracle when you think about how far the medical profession has advanced and improved.
What keeps you at St. Christopher's? 
I really like working with children. When I worked in the Med/Surg, we didn't have the treatments available today. We would sometimes spend months caring for a patient, and during that time we really got to know the patient and the family, so when there was a loss it was devastating. I enjoyed the ED because I had the opportunity to continue to make an impact on the lives of patients. And, sometimes, I even had the opportunity to see some of the same patients, but it was for a different reason. 
My coworkers are another reason I enjoy my job. I work with great, fun people and have a personal relationship with many of them outside of work. 
What are some of your memorable career accomplishments?
I began my career as an LPN, but knew I wanted to become an RN and I accomplished that goal. I also got additional certifications throughout the years. My focus was to be able to work and feel like I accomplished things each day for my patients. 
What motivates you to continue to care for patients in the community? 
I like my job and I'm still learning. Every day, I have the opportunity to see something new. I enjoy that aspect of the job and I think it helps keep me young. 
Do you have a memorable patient story?  
For many years after I cared for a patient, he would make me a Christmas ornament every year and, even today, I put the ornaments on my tree. 
What is the best thing about being a nurse? 
Knowing that you've made a difference in somebody's life in some way. 
What is the most challenging thing about being a nurse? 
When a family comes to the hospital with a sick child, it is so often the worst day of their lives, and that can make communicating with them difficult. Our role goes beyond providing clinical care for the child. We also provide support, comfort, and guidance to their families.