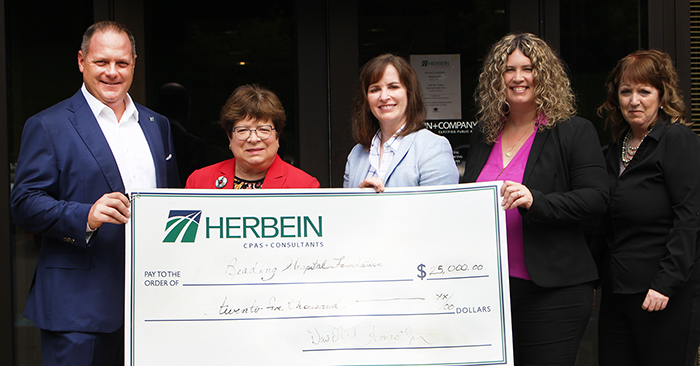 Reading Hospital Foundation received a $25,000 donation August 23 from Herbein + Company, Inc. (Herbein) toward the purchase of a mobile mammography coach and naming rights to the coach's reception/waiting area.
A plaque will be placed in the reception area to recognize Herbein for its gift.
"Breast cancer is one of the most commonly diagnosed cancers among American women – and even more prevalent among women here in Pennsylvania," Herbein partner Marybeth Olree, who serves as co-leader of HWomen RISE, Herbein's women's initiative, said. "We know this new mobile coach will reduce barriers to care and provide more women with the opportunity for breast cancer screening with the latest and best early detection technology. Our firm is delighted to partner with the Reading Hospital Foundation to make a difference for women and their families in our community."
"Our HWomen RISE initiative is so proud to support the Reading Hospital Foundation's fundraising for the mobile mammography coach," said Jennifer Goldsmith Cerra, Herbein director of communications. "We are confident that the new mobile mammography coach will help foster better access to life-saving cancer screening for women across the region."
The new mobile mammography vehicle will allow Reading Hospital to bring the screening to the patient, removing transportation barriers. Outfitted with the latest technology, including 3D tomosynthesis, the mobile mammography coach uses a digital mammography screening tool that improves the accuracy of imaging and enables caregivers to detect more invasive cancers. The coach will have the capacity to perform 20 mammograms per day in the community, reaching approximately 4,000 women a year.
Katherine Thornton, Reading Hospital Foundation President, added, "With this generous donation from Herbein, we are one step closer to purchasing a mobile mammography coach for our community. To date, we've received more than 75 donations from local businesses and community members toward the purchase of the coach – a true testament to the power of our community."
A donation to the Reading Hospital Foundation helps to ensure women can receive routine screenings when they might not otherwise have access to this life-saving service. Individuals interested in donating can visit towerhealth.org/RHFoundation, click "Make a Gift," and select "Mobile Mammography Coach" for the Gift Purpose drop down menu. 
Women who choose mobile mammography can expect the same exceptional patient care as they would at one of Tower Health's mammography imaging locations. Scheduling, testing, follow-up, and referrals will be a seamless experience. 
Featured in photo (left to right) are Dave Stonesifer, Herbein Managing Partner; Therese Sucher, Reading Hospital Interim President and CEO and Tower Health Executive Vice President and Chief Operating Officer; Katherine Thornton, Reading Hospital Foundation President; Marybeth Olree, Herbein Partner / Co-Leader of HWomen RISE (Herbein's women's initiative); and Jennifer Goldsmith Cerra, Herbein Director of Communications.
About Reading Hospital
Reading Hospital is the flagship, Magnet Recognized, acute care hospital of Tower Health. Located in West Reading, Pa., Reading Hospital is a 714-bed hospital that is home to many top-tier specialty care centers, including Reading HealthPlex, Tower Health Transplant Institute, McGlinn Cancer Institute, Miller Regional Heart Center, Emergency Department, Level I Trauma Center and Beginnings Maternity Center, which houses the region's only Level III Neonatal Intensive Care Unit (NICU). With more than 1,000 physicians and providers across 49 locations, Reading Hospital has been recognized for its quality outcomes and clinical expertise across services lines. It is listed as one of America's 100 Best Hospitals for five consecutive years and received a 5-Star Rating from CMS two years in a row. For more information, visit towerhealth.org.