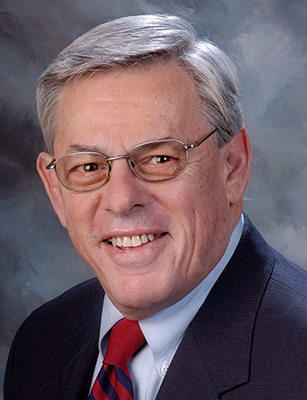 Peter A. Schwartz, MD, Chair Emeritus of Obstetrics and Gynecology (OB/GYN) at Reading Hospital – Tower Health, has been elected as Chair of the American Medical Association's (AMA) Council on Ethical and Judicial Affairs for a one-year term. He has been a member of the Council since 2016. The Council is responsible for creating medical ethical guidelines for physicians and disciplining physicians who practice outside of those guidelines. The AMA is the nation's largest medical organization, with over 240,000 members.
During his tenure at Reading Hospital, Dr. Schwartz served as Chair OB/GYN from 1987 to 2005 and again from 2012 to 2014. He also served as Chair of Reading Hospital's Ethics Committee and the American College of Obstetricians and Gynecologists Ethics Committee.
"Even after his retirement from practicing medicine, Dr. Schwartz continues to be a trusted resource for his physician colleagues in the Reading community," said Charles F. Barbera, MD, Reading Hospital President and CEO. "We are extremely lucky that a physician of his caliber continues to provide his medical expertise and insight both locally and nationally."
Dr. Schwartz is also a member of the Board of Directors of Frontier Nursing University, which trains almost one third of the graduating midwives in the US annually. He is also a member of the Ethiopian Society of Obstetricians and Gynecologists, having helped them to create their first code of medical ethics and returning twice annually to teach medical ethics. 
About Reading Hospital
Reading Hospital is the flagship, Magnet Recognized, acute care hospital of Tower Health. Located in West Reading, Pa., Reading Hospital is a 697-bed hospital that is home to many top-tier specialty care centers, including Reading HealthPlex, McGlinn Cancer Institute, Miller Regional Heart Center, Emergency Department, Level I Trauma Center and Beginnings Maternity Center, which houses the region's only Level III Neonatal Intensive Care Unit (NICU). With more than 1,000 physicians, specialists, and advanced practice providers across 49 locations, Reading Hospital has been recognized for its quality outcomes and clinical expertise across services lines. It is listed as one of America's 100 Best Hospitals for four consecutive years (and moving up to America's 50 Best Hospitals in 2022) and received a 5-Star Rating from CMS two years in a row. For more information, visit towerhealth.org.