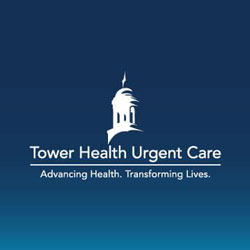 Tower Health announced today that it opened a new urgent care location in Hamburg on Monday, May 3. Tower Health Urgent Care - Hamburg is located at 101 Grand Street.
All Tower Health Urgent Care (THUC) facilities are open 365 days a year from 9 a.m. to 9 p.m. to provide walk-in care for a variety of conditions including: colds, flu, allergies, asthma, sore throat, sports injuries, minor lacerations, sprains, earaches, and preventative services such as physicals, vaccines, and occupational health.
Flu vaccines and COVID-19 testing are also available at all THUC locations; rapid COVID-19 testing is available for those individuals experiencing COVID-19 symptoms. In addition, the locations in Parkesburg, Villanova, Exeter, and Wyomissing offer COVID-19 rapid testing for travel.
Tower Health is committed to providing care when and where our communities need it. Urgent Care is an essential link in the continuum of care that connects patients to a physician if they do not have a primary care physician or their physician is not available.
"Our new urgent care facility will provide high-quality urgent medical care to patients in their community," said Charles Barbera, MD, Tower Health Vice President, Pre-Hospital and Unscheduled Care. "It will also supplement the primary care, cardiology, imaging, laboratory, and physical therapy services currently available in the Hamburg community."
The Tower Health Urgent Care team includes board-certified Physicians and Advance Practice Providers. To provide fully integrated care, all Tower Health Urgent Care Centers use EPIC, the electronic medical record in use across Tower Health. EPIC brings patient health information from Tower Health care sites into one health record, leading to more informed clinical decisions, improved outcomes, and seamlessly coordinated care.
Learn more about Tower Health Urgent Care.
About Tower Health
Tower Health is a strong, regional, integrated healthcare provider/payer system that offers leading-edge, compassionate healthcare and wellness services to a population of 2.5 million people. With approximately 14,000 team members, Tower Health consists of Reading Hospital in West Reading; Brandywine Hospital in Coatesville; Chestnut Hill Hospital in Philadelphia; Jennersville Hospital in West Grove; Phoenixville Hospital in Phoenixville; Pottstown Hospital in Pottstown; and St. Christopher's Hospital for Children, a partnership of Tower Health and Drexel University in Philadelphia. It also includes Reading Hospital Rehabilitation at Wyomissing; Reading Hospital School of Health Sciences in West Reading; home healthcare services provided by Tower Health at Home; and a network of 25 urgent care facilities across the Tower Health service area. Tower Health offers a connected network of 2,200 physicians, specialists, and providers across more than 230 convenient locations. For more information, visit towerhealth.org.