If someone you love is injured, it's comforting to know the very best care is available close to home. Since 2005, the staff at the Trauma Center at Reading Hospital has been working to ensure that every patient receives the best care possible.
To those who have experienced a traumatic injury.
The physicians in the Section of Trauma and Surgical Critical Care provide three main services:
Care of traumatically injured patients, including resuscitation, emergency surgery, intensive care and/or general medical care
General surgery in either the emergency or elective setting
Neurocritical care for patients suffering from intracranial tumor, stroke, intracerebral hemorrhage, status epilepticus and other conditions
Level I Trauma Center at Reading Hospital
We are accredited as a Level I Trauma Center. Located in N-Building with the Emergency Department, our Trauma Center has a recently expanded trauma resuscitation area with fully functional trauma bays and the capacity to handle multiple critically injured patients.
We have the resources to provide efficient surgical intervention to reduce the likelihood of death or permanent disability. As a Pennsylvania Trauma Systems Foundation (PTSF) accredited trauma center, we are always prepared to treat the most serious life-threatening and disabling injuries while meeting the Foundation's stringent set of requirements.
Dedicated, Multidisciplinary Specialists
Our trauma surgeons are on-site 24/7, with teams of specialists in neurosurgery, orthopedic surgery, anesthesiology, radiology, emergency medicine, and more. State-of-the-art resuscitation trauma bays allow the trauma team to quickly respond to multiple critically injured patients at the same time.
You'll benefit from expansive resources, superior clinical leadership, as well as a partnership with PennSTAR. This partnership allows for immediate access to air transport with a helicopter housed on our rooftop helipad.
Affiliations
Accredited continuously since 2005, Reading Hospital Trauma Center is the first and only trauma center in Berks County. As a member of the University of Pennsylvania Health System (UPHS) Trauma Network, an internationally recognized resource for excellence in trauma center design and performance, we have close affiliations with the Hospital of the University of Pennsylvania in Philadelphia.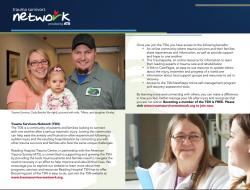 The TSN is a community of patients and families looking to connect with one another after a serious traumatic injury. Joining this community can help ease the anxiety and frustration often experienced following a
sudden injury and the resulting hospitalization by connecting you with other trauma survivors and families who face the same unique challenges.
Download the PDF