Start your weight loss journey today.
We offer a wide range of weight loss services, so you and your provider can choose the option that's right for you. These options include several types of bariatric surgery and nonsurgical weight loss services.
Considering Bariatric Surgery?
Watch our weight loss seminar.
In this video, our bariatric surgeons explain how they determine if you're a candidate for surgery and outline the risks and benefits of each procedure. You will also learn how to fill out a secure online form that allows you to request a bariatric surgery consultation.
You can also join us for an in-person session, where one of their bariatric surgeons will discuss the benefits, potential risks, and qualification criteria for weight loss surgery. Register below.
Not Sure of the Best Approach for You?
If you or your child are ready to lose weight and want to learn more about your options, give us a call today: 484-628-5673.
Our program coordinator will set up a time to go over your medical history and weight loss goals. We will also discuss which services you are eligible for based on your medical history, personal preferences, and insurance coverage.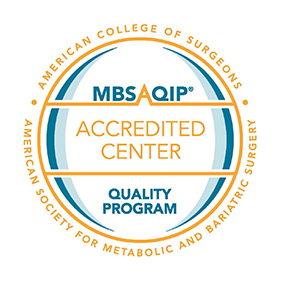 ASMBS Accreditation
Reading Hospital Weight Loss Surgery and Wellness Center is accredited by the American College of Surgeons Metabolic and Bariatric Surgery Accreditation and Quality Improvement Program (MBSAQIP), in partnership with the American Society for Metabolic and Bariatric Surgery (ASMBS). Our program is one of only a handful of programs in the nation with triple accreditation as a Comprehensive Center with Adolescent and Obesity Medicine Qualifications. This accreditation acknowledges our commitment to providing and supporting quality improvement and patient safety efforts and demonstrates our provision of multidisciplinary, high-quality, patient-centered care.
Bariatric Surgery Volume and Outcomes - Reading Hospital
Surgery Dates: January 1, 2021 to June 30, 2023
Surgical Volume:
Sleeve Gastrectomy - 749

Gastric Bypass - 139

Duodenal Switch/Single Anastomosis Duodenal Switch - 150
Surgical Outcomes (% of surgical patients with occurrence):
 
Sleeve Gastrectomy

Gastric Bypass

DS/SIPS

Leak of intestine or stomach at stapled area

0%

0.7%

3.3%

Wound infection or problem

0.3%
2.2%
3.3%

Pulmonary embolus (blood clot in lungs)

0.1%

0%

0%

Bleeding (requiring transfusion within 72 hours of surgery)

0.1%
1.4%

0%

Related readmission
1.3%
10.1%
13.3%
Related reoperation 

(second operation)

0%

1.4%
2.7%
Death

0%

0%

0%
Reference: 
American College of Surgeons Metabolic and Bariatric Surgery Accreditation and Quality Improvement Program. 30-Day Occurrences Report, Chicago: American College of Surgeons.
Surgical Weight Loss
With several minimally invasive weight loss surgery options available, you can pick the procedure that best suits your medical needs and personal goals.
About Surgical Weight Loss
Nonsurgical Weight Loss
Our medical weight loss program helps adults and children safely and successfully lose weight, achieve better health, and develop healthy habits that last.
About Nonsurgical Weight Loss
Adolescent Weight Loss
At a higher risk for health problems, overweight children are also prone to low self-esteem and depression. If your child needs help losing weight, turn to our team for safe medical or surgical support.
About Adolescent Weight Loss