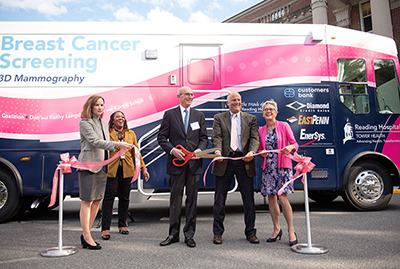 On Thursday, September 22, at 4 p.m. Reading Hospital Foundation will host a ribbon-cutting event for Reading Hospital's new mobile mammography coach at the Hospital's 6th Avenue (Clock Tower) entrance. Remarks will be made by P. Sue Perrotty, Tower Health President and CEO; Charles F. Barbera, MD, MBA, MPH, FACEP, Reading Hospital President and CEO; Katherine Thornton, Reading Hospital Foundation President; Desha Dickson, Tower Health Vice President of Diversity, Equity, and Inclusion and Community Wellness; and Tom Adil, Director of Chaplaincy Services.
The mobile mammography coach is sponsored by the Reading Hospital Foundation.
One in eight women will develop breast cancer in her lifetime, and most don't have a family history of the disease. The American College of Radiology recommends that all women get their first mammogram at the age of 40.
Dr. Barbera said, "We know early detection saves lives when a woman is diagnosed with breast cancer. Reading Hospital prides itself on being a partner and we are committed to ensuring all women have access to mammogram services, including those underinsured and those without insurance." 
"Our most recent Community Health Needs Assessment identified access to health services as a challenge for many in our community," said Desha Dickson. "I'm proud to share we have 48 mobile mammography screening events scheduled through the end of the year. These events will bring life-saving screenings directly to our patients and remove any transportation barriers they may face."
Individuals interested in scheduling an appointment should call 484-628-8611. The Patient Financial Assistance Program will work to enroll women who are under- or uninsured and meet eligibility requirements. Contact our Reading Hospital Financial Counselors at 484-628-7400 with questions.
To learn more about hosting an event in Berks County, please contact Ashley Gallen, Program Coordinator at 484-628-2208 or send an email to Ashley.Gallen@towerhealth.org.
Outfitted with the latest technology, including 3D tomosynthesis, the mobile mammography coach uses a digital mammography screening tool that improves the accuracy of imaging, reducing unneeded follow-up visits, and enables caregivers to detect more invasive cancers. Women who use the mobile mammography unit will get the same exceptional patient care as they do at any of Tower Health's mammography imaging locations, with coordinated scheduling, testing, follow-up, and referrals.
Fundraising for the mobile mammography coach began in August 2020, and was completed in November 2021, through a combination of generous donations, pledges, grants, and the Pennsylvania Neighborhood Assistance Program tax credit program. "We appreciate the support from all of our corporate and individual donors," said Katherine Thornton. "Every donation to the mobile mammography fund, regardless of the amount, will make a significant impact on the health of women in our community. 
Donations are being accepted to support the Mobile Mammography Patient Assistance Fund. Individuals interested in donating can visit towerhealth.org/RHFoundation, click "Make a Gift," and select "Mobile Mammography Coach" from the Gift Purpose drop down menu.
Media is invited to attend the event. Photos will be available upon request. 
About Reading Hospital
Reading Hospital is the flagship, Magnet Recognized, acute care hospital of Tower Health. Located in West Reading, Pa., Reading Hospital is a 697-bed hospital that is home to many top-tier specialty care centers, including Reading HealthPlex, McGlinn Cancer Institute, Miller Regional Heart Center, Emergency Department, Level I Trauma Center and Beginnings Maternity Center, which houses the region's only Level III Neonatal Intensive Care Unit (NICU). With more than 1,000 physicians, specialists, and advanced practice providers across 49 locations, Reading Hospital has been recognized for its quality outcomes and clinical expertise across services lines. It is listed as one of America's 100 Best Hospitals for four consecutive years (and moving up to America's 50 Best Hospitals in 2022) and received a 5-Star Rating from CMS two years in a row. For more information, visit towerhealth.org.