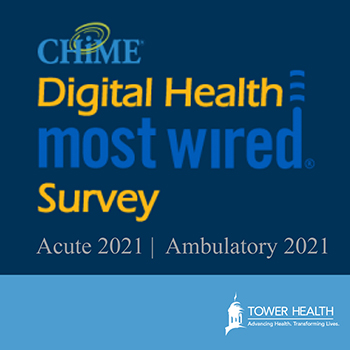 Tower Health has earned the 2021 College of Healthcare Information Management Executives (CHIME) Digital Health Most Wired recognition as a certified level 8 for Acute and Ambulatory settings. The CHIME Digital Health Most Wired program conducts an annual survey to assess how effectively healthcare organizations apply core and advanced technologies into their clinical and business programs to improve health and care in their communities.
"Digital transformation in healthcare has accelerated to an unprecedented level since 2020, and the next few years will bring a wave of innovation that empowers healthcare consumers and will astound the industry," said CHIME President and CEO Russell P. Branzell. "The Digital Health Most Wired program recognizes the outstanding digital leaders who have paved the way for this imminent revolution in healthcare. Their trailblazing commitment to rapid transformation has set an example for the entire industry in how to pursue a leadership vision with determination, brilliant planning, and courage to overcome all challenges."
Michelle Trupp, Tower Health Chief Information Officer, added, "We are proud of this recognition because it demonstrates our commitment to providing the care to our patients when and where they need it. As part of our response to the COVID-19 pandemic, we have especially focused on enhancements to our virtual care options in both the inpatient and outpatient settings. These options allow for additional collaboration among caregivers and patients to support optimal clinical outcomes. We received Level 7 recognition last year, so it's great to see our continued efforts have moved Tower Health to a higher designation."
A total of 36,674 organizations were represented in the 2021 Digital Health Most Wired program, which includes four separate surveys: acute, ambulatory, long-term care, and international acute. The surveys assessed the adoption, integration, and impact of technologies in healthcare organizations at all stages of development, from early development to industry leading.
Each participating organization received a customized benchmarking report, an overall score and scores for individual levels in eight segments: infrastructure, security; business/disaster recovery, administrative/supply chain, analytics/data management, interoperability/population health, patient engagement, and clinical quality/safety. Participants can use the report and scores to identify strengths and opportunities for improvement. Participants also received certification based on their overall performance, with level 10 being the highest.
This is the fourth year that CHIME has conducted the survey and overseen the program. In each successive year, CHIME has expanded the survey to capture more types of organizations that serve patients across the continuum of care. CHIME also continues to promote the program internationally to provide a global overview of digital health advancements.
About Tower Health
Tower Health is a strong, regional, integrated healthcare provider/payer system that offers leading-edge, compassionate healthcare and wellness services to a population of 2.5 million people. With approximately 14,000 team members, Tower Health consists of Reading Hospital in West Reading; Brandywine Hospital in Coatesville; Chestnut Hill Hospital in Philadelphia; Jennersville Hospital in West Grove; Phoenixville Hospital in Phoenixville; Pottstown Hospital in Pottstown; and St. Christopher's Hospital for Children, a partnership of Tower Health and Drexel University in Philadelphia. It also includes Reading Hospital Rehabilitation at Wyomissing; Reading Hospital School of Health Sciences in West Reading; home healthcare services provided by Tower Health at Home; and a network of 25 urgent care facilities across the Tower Health service area. Tower Health Medical Group includes approximately 800 primary and specialty physicians in more than 100 locations. For more information, visit towerhealth.org. 
About CHIME
The College of Healthcare Information Management Executives (CHIME) is an executive organization dedicated to serving chief information officers (CIOs), chief medical information officers (CMIOs), chief nursing information officers (CNIOs), chief innovation officers (CIOs), chief digital officers (CDOs) and other senior healthcare IT leaders. With nearly 3,400 members in 55 countries and over 150 healthcare IT business partners and professional services firms, CHIME provides a highly interactive, trusted environment enabling senior professional and industry leaders to collaborate, exchange best practices, address professional development needs and advocate the effective use of information management to improve the health and care in the communities they serve. For more information, please visit chimecentral.org.