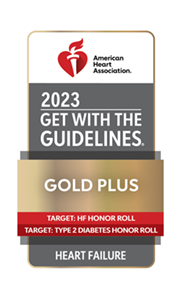 Tower Health announced today that Phoenixville Hospital, Pottstown Hospital, and Reading Hospital have received the American Heart Association's Get With The Guidelines® - Heart Failure Gold Plus with Target: Heart Failure Honor Roll and Target: Type 2 Diabetes Honor Roll quality achievement awards for their commitment to improving outcomes for patients with heart failure, meaning reduced readmissions and more healthy days at home.
About 6 million U.S. adults live with heart failure (HF), a number expected to increase to more than 8 million by 2030. Despite the name, heart failure doesn't mean the heart has stopped working – it means the heart is having difficulty pumping blood and oxygen throughout the body. While there's no cure for heart failure, patients can live a quality life by working with their healthcare team. Together they can create and stick to a plan that may include medication, symptom monitoring, and lifestyle changes.
The Get With The Guidelines - Heart Failure quality achievement award is earned by hospitals that demonstrate a commitment to treating patients according to the most up-to-date guidelines outlined by the American Heart Association. Get With The Guidelines puts the American Heart Association's expertise to work for hospitals nationwide. This helps to ensure patient care is aligned with the latest research and evidence-based guidelines. Program goals are to increase the number of healthy days spent at home, and to reduce the number of hospital readmissions for patients with heart failure.
"The health of individuals in our community is the top priority for Tower Health team members," said P. Sue Perrotty, Tower Health president and CEO. "Awards and recognitions such as these demonstrate our continuous efforts to share best practices across our hospitals and ensure we adhere to the latest treatment guidelines. Each day we are grateful our patients have chosen us for their care and we hope to get them home to their friends and family as soon as possible."
Recently the hospitals implemented a risk stratification tool in each Emergency Department (ED). This is a clinical decision support tool to help identify patients who may need to be admitted for additional care and treatment. It also recognizes those eligible for discharge from the ED. This important tool also helps to distinguish patients at elevated risk of mortality or susceptibility to future readmissions.
Each year, program participants qualify for award recognition by demonstrating how their organization provides quality care for heart failure patients. Get With The Guidelines participants adhere to treatment guidelines while educating their patients about heart failure management at home.
"We are pleased to recognize the leaders and teams at Phoenixville Hospital, Pottstown Hospital, and Reading Hospital for a strong commitment to caring for people with Heart Failure," said Clyde W. Yancy, MD, MSc, MACC, FAHA, MACP, FHFSA, national chairperson of the American Heart Association Heart Failure systems of care advisory group and chief, division of cardiology at Northwestern University, Feinberg School of Medicine. According to Mr. Yancy, hospitals participating in Get With The Guidelines quality improvement programs often see better patient outcomes, fewer readmissions, and lower mortality rates. This is a win for healthcare systems, families, and communities.
About Tower Health
Tower Health is a regional integrated healthcare system that offers compassionate, high-quality, leading-edge healthcare and wellness services to communities in Berks, Chester, Montgomery, and Philadelphia Counties. With approximately 11,000 employees, Tower Health consists of Reading Hospital in West Reading; Phoenixville Hospital in Phoenixville; Pottstown Hospital in Pottstown; and St. Christopher's Hospital for Children in Philadelphia, in partnership with Drexel University. Tower Health is strongly committed to academic medicine and training, including multiple residency and fellowship programs, the Drexel University College of Medicine at Tower Health, and the Reading Hospital School of Health Sciences in West Reading. The system also includes Reading Hospital Rehabilitation at Wyomissing; home healthcare provided by Tower Health at Home; TowerDirect ambulance and emergency response; Tower Health Medical Group; Tower Health Providers, our clinically integrated network; and Tower Health Urgent Care facilities located throughout our service area. For more information, visit towerhealth.org.
About Get With The Guidelines
Get With The Guidelines® is the American Heart Association/American Stroke Association's hospital-based quality improvement program that provides hospitals with the latest research-based guidelines. Developed with the goal of saving lives and hastening recovery, Get With The Guidelines has touched the lives of more than 12 million patients since 2001. For more information, visit heart.org.