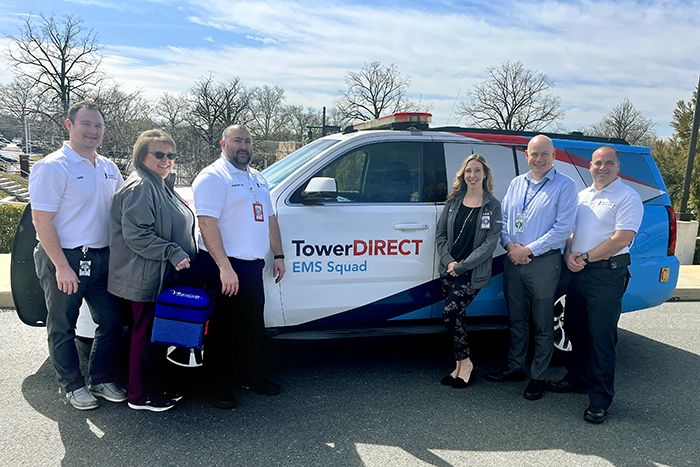 Tower Health announced today that TowerDIRECT's critical care truck now carries whole blood products. The blood can be administered by the team's prehospital critical care nurses for patients who qualify for Massive Transfusion Protocol (MTP). The critical care truck, based at Reading Hospital, is available to all Berks County 911 agencies as a resource.
Patients requiring transfusion could include those suffering from severe hemorrhagic shock, gunshot wounds, stab wounds, critical injuries from a motor vehicle accident, OB/GYN bleeds, severe internal bleeding, or other forms of penetrating trauma, or blunt force trauma.  
"Our TowerDIRECT team never settles for the status quo," said P. Sue Perrotty, Tower Health president and CEO. "Everyday they look for opportunities to enhance the level of care they can provide to our patients. I thank the team members from TowerDIRECT, Laboratory Transfusion Service, IT, Trauma Center, and Emergency Department who took this from an idea, to a reality, in 18 months. I would also like to extend a special thanks to Miller-Keystone Blood Center for their support of this initiative. Without our strong partnership, this would not be possible."
The truck will carry type O blood products, which can be safely received by every patient. Patients will benefit from receiving whole blood that includes red blood cells, plasma, and platelets - which are critical to help the blood clot.
Herbert Schiffer, DO, Medical Director at TowerDIRECT, shared, "During a traumatic injury, every second matters. By keeping blood products on the truck, our team can begin a lifesaving transfusion 15 to 30 minutes sooner. The research has shown that implementing this practice in the field leads to improved patient outcomes and survivability. To the best of our knowledge, we are the only ground crews in the state to offer this service."
The sustainability of this program depends on adequate levels of blood donation. "One of the greatest gifts each of us can give, is to schedule an appointment, and donate blood at our local blood bank," Ms. Perrotty stated. "Blood donation saves the lives of our family, friends, and neighbors, when they need it most."
Blood centers across the US continue to face critical shortages due to an increase in demand, and a decrease in donors. Tower Health encourages the community to donate blood to their local blood banks to ensure local hospitals have adequate supply. Individuals interested in donating can schedule appointments at Miller-Keystone Blood Center or the American Red Cross.
During the months of May, July, and September, Reading Hospital is hosting a Friends and Family blood drive in partnership with Miller-Keystone Blood Center, 2475A Leiscz's Bridge Road, Reading. Interested individuals can call 800-223-6667 and mention Group ID 3233. The hospital will also be hosting blood drives onsite in June, August, October, and December. Registration details will be shared approximately one month in advance.
To be eligible to donate blood, you must be 16 years of age or older, and weigh a minimum of 110 pounds. Individuals are eligible to donate whole blood every 56 days.
Tower Health continues ongoing recruitment efforts for additional providers and team members at all TowerDIRECT locations. Visit Careers.TowerHealth.org and search on keyword "#Direct" to learn more.
About Tower Health 
Tower Health is a regional integrated healthcare system that offers compassionate, high quality, leading edge healthcare and wellness services to communities in Berks, Chester, Montgomery, and Philadelphia Counties. With approximately 11,500 employees, Tower Health consists of Reading Hospital in West Reading; Phoenixville Hospital in Phoenixville; Pottstown Hospital in Pottstown; and St. Christopher's Hospital for Children in Philadelphia, in partnership with Drexel University. Tower Health is strongly committed to academic medicine and training, including multiple residency and fellowship programs, the Drexel University College of Medicine at Tower Health, and the Reading Hospital School of Health Sciences in West Reading. The system also includes Reading Hospital Rehabilitation at Wyomissing; home healthcare provided by Tower Health at Home; TowerDirect ambulance and emergency response; Tower Health Medical Group; Tower Health Providers, our clinically integrated network; and 25 Tower Health Urgent Care facilities across our service area. For more information, visit towerhealth.org.