McGlinn Cancer Institute at Reading Hospital offers groundbreaking noninvasive radiation therapy that uses FDA-approved, real-time magnetic resonance imaging (MRI) to deliver precise and accurate radiation treatment available today. Through simultaneous imaging and treatment, our approach better helps protect healthy tissue and organs while providing the best possible radiation results.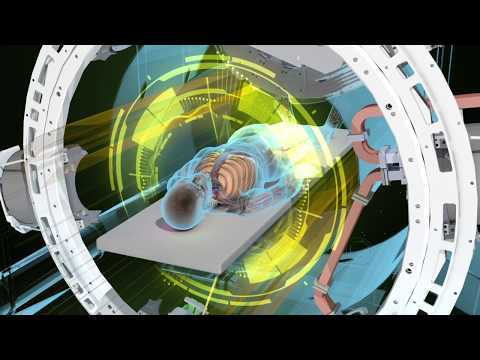 MRI-Guided Linear Accelerator - McGlinn Cancer Institute at Reading Hospital
Watch the Video
The Future of Radiation Treatment Is Here
During radiation treatment, it is normal for a tumor to move when a patient:
Breathes
Swallows
Digests food
Some radiation technologies don't account for such movement, putting healthy tissue at risk. Our technology offers unmatched clarity that tracks the movement of soft tissue and organs in real time. This allows oncologists to see, target, and adapt to tumors in real time. If the tumor moves beyond a designated boundary, the radiation pauses and improves targeting precision.
The MRI-Guided Radiation Therapy Advantage
Optimizes the dose of radiation to the correct location
Shortens treatment course
Spares healthy tissue from radiation
Reduces side effects
Latest Innovation in Radiation Treatment
MRI-Guided Radiation Therapy is the most precise noninvasive treatment today, providing personalized and powerful treatment unavailable in other conventional technologies.
Radiation Treatment Delivery (*RTD)
 

|   | MRI-Guided RTD* | Proton RTD | Standard RTD |
| --- | --- | --- | --- |
| Real-time direct visualization of tumors during treatment delivery | Yes | No | No |
| Reduced chance of side effects as a result of improved targeting | Yes | No | No |
| Best chance of avoiding healthy tissue around tumors by using real-time beam adjustment during treatment | Yes | No | No |
| Potential for higher radiation dose to moving tumors and tumors in difficult locations | Yes | No | No |
The Patient Experience
Our system allows treatment of cancer and limited metastatic disease in areas of the body that are hard-to-reach or near critical organs.
Our world-class healthcare team has cared for many cancer patients and will create a personalized treatment plan that meets your specific needs. Depending on your type and stage of cancer, a radiation oncologist will determine if treatment with our system is a recommended treatment option. 
Each patient's treatment plan will be different, but treatment courses typically range anywhere from a few days to a few weeks depending on the following:
Size, type, and location of your tumor
You general health
Other treatments you may be receiving
Connecting You with the Most Advanced Cancer Care
MRI-Guided Radiation Therapy is available at the McGlinn Cancer Institute at Reading Hospital, in West Reading.