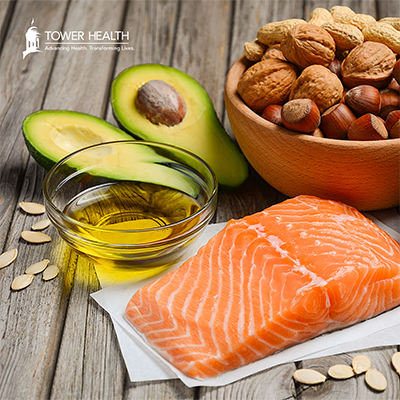 Our bodies naturally produce enough cholesterol to meet our needs, so eating extra cholesterol, trans fat, and saturated fats through food can lead to heart and health issues.
Foods high in saturated fat are especially dangerous, because they can trigger the body to produce extra cholesterol. Adding more fiber to your diet will help lower your cholesterol.
Check out these easy tips to help you cut unnecessary fat and increase fiber in your diet:
Eat plant-based choices for several of your meals each week.

Try grilled, steamed, or baked salmon, trout, or mackerel - instead of fried or breaded fish.

Vary your protein choices by eating more seafood and legumes (including soy foods, beans, and lentils).

Choose lean cuts of meat and remove visible fat. Remove skin and fat from poultry.

Choose low-fat or fat-free dairy products or calcium-fortified plant-based alternatives.

Top salads with nuts or seeds instead of croutons. Use oil-based salad dressings instead of cream-based dressings.
Our Outpatient Nutrition Counseling Service offers a variety of nutritional services, all designed to help our patients and community be healthy.
For more information, visit towerhealth.org/services/nutrition or call 833-34-TOWER.