As the COVID-19 Delta variant continues to spread across the country and the region, Tower Health reminds the community on the importance of getting the COVID-19 vaccine.
"A recent CDC report showed that nearly 100 percent of COVID-19 hospitalizations are among individuals who are not vaccinated," said Debra Powell, MD, Chief Division of Infectious Diseases and Medical Director Infection Prevention at Reading Hospital. "In addition to the COVID-19 vaccine preventing illness, it also decreases the virus's ability to mutate and create new strains. I strongly encourage everyone eligible who has not been vaccinated to schedule their appointment. This is our best defense as the highly contagious Delta variant continues to spread rapidly."
P. Sue Perrotty, President and CEO at Tower Health, said, "Tower Health continues to monitor vaccination rates in our community, across the country, and around the world. Data show that vaccinations are safe, effective, and have significantly reduced inpatient hospitalizations. In fact, at the end of 2020 before the widespread availability of vaccine, Tower Health hospitals averaged more than 350 COVID-19 inpatients a day. At the end of June 2021, we averaged fewer than 10."
Between December 17, 2020 and June 30, 2021, Tower Health administered a total of 85,716 COVID-19 vaccines. Other statistics include: 
First employee vaccine administered on December 17, 2020 at St. Christopher's Hospital for Children
First-dose vaccines distributed: 43,579, includes Pfizer, Moderna, Johnson & Johnson
Second doses of Pfizer vaccine: 24,849
Second doses of Moderna vaccine: 17,288
Tower Health Medical Group Vaccine Clinic Muhlenberg opened: February 3, 2021
Highest number of vaccines distributed in one day: 1,123 on March 5, in partnership with Centro Hispanic in Reading
Vaccine doses for 12 to 17 year olds (began May 13): 1,099 
Number of vaccine locations, excluding mobile locations: 9
Because COVID-19 remains a risk in our community and in accordance with CDC and Pennsylvania Department of Health recommendations, all Tower Health patients, visitors, and employees are required to wear a mask while inside any of our facilities. Please remember to bring your mask if you have an appointment with us or are visiting a patient. This includes individuals who are partially or fully vaccinated against COVID-19.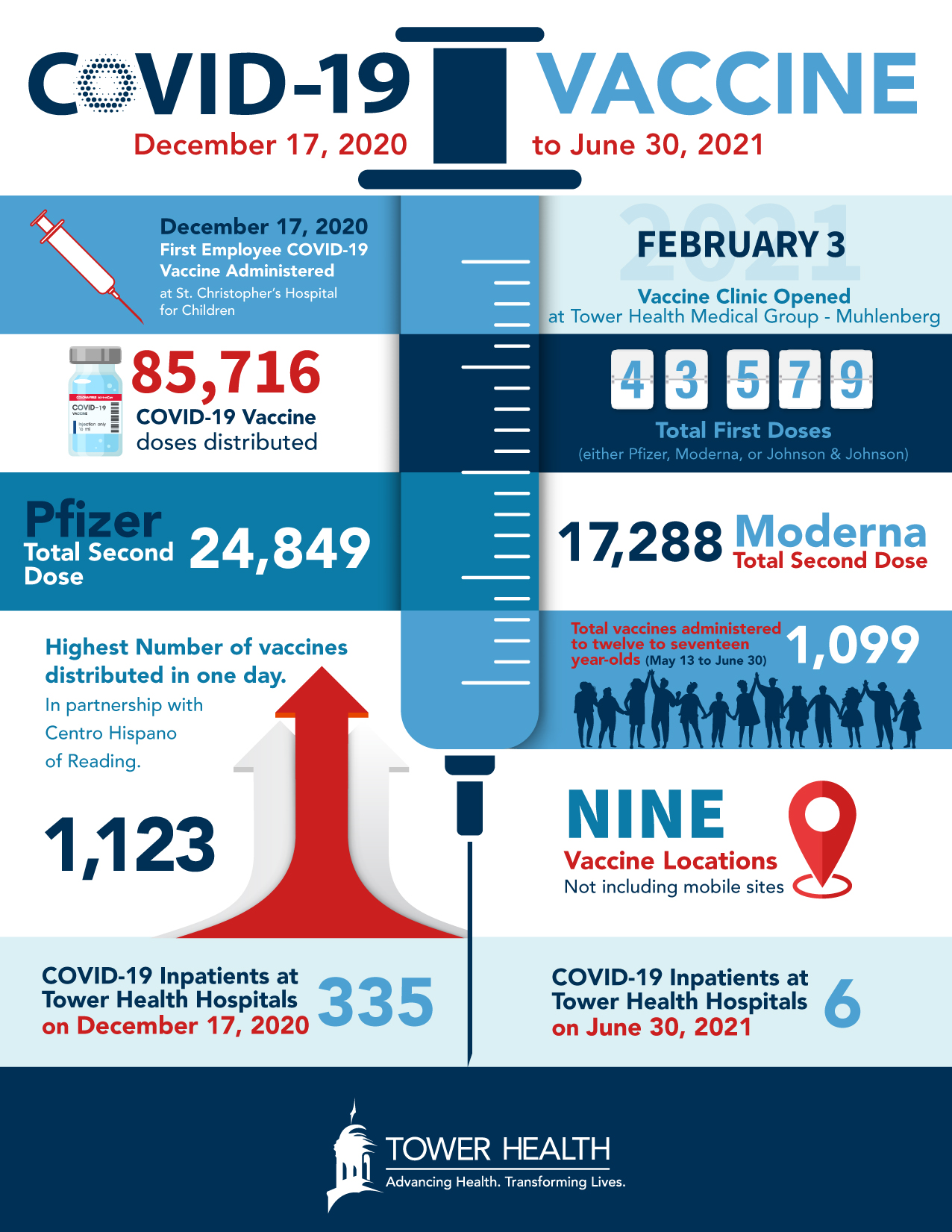 About Tower Health
Tower Health is a strong, regional, integrated healthcare provider/payer system that offers leading-edge, compassionate healthcare and wellness services to a population of 2.5 million people. With approximately 14,000 team members, Tower Health consists of Reading Hospital in West Reading; Brandywine Hospital in Coatesville; Chestnut Hill Hospital in Philadelphia; Jennersville Hospital in West Grove; Phoenixville Hospital in Phoenixville; Pottstown Hospital in Pottstown; and St. Christopher's Hospital for Children, a partnership of Tower Health and Drexel University in Philadelphia. It also includes Reading Hospital Rehabilitation at Wyomissing; Reading Hospital School of Health Sciences in West Reading; home healthcare services provided by Tower Health at Home; and a network of 25 urgent care facilities across the Tower Health service area. Tower Health offers a connected network of 2,200 physicians, specialists, and providers across more than 230 convenient locations. For more information, visit towerhealth.org.