Tower Health is marking the one-year anniversary of COVID-19 impacting our community. "The past year has been a challenge for our team and for everyone in healthcare," said P. Sue Perrotty, Interim President and CEO at Tower Health. "When the pandemic began, our people bravely went to work each day, and continue to do so a year later, focused on the needs of our patients and communities. Their commitment never wavered, they give their very best, and for that they are to be commended." 
A look at some key statistics helps to illustrate the impact of the pandemic.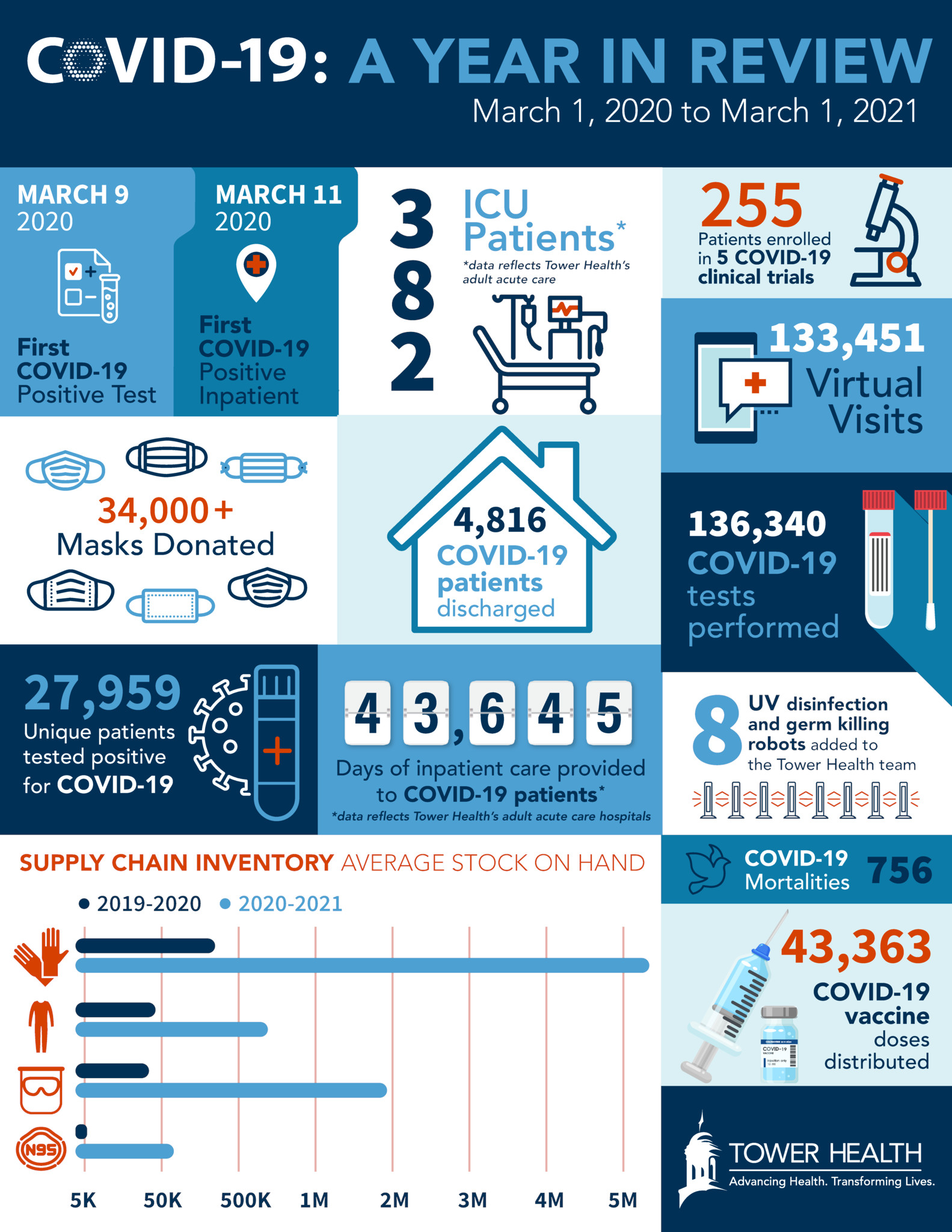 Between March 1, 2020 and March 1, 2021, Tower Health: 
Conducted 136,340 COVID-19 tests

Identified 27,959 unique patients who tested positive for COVID-19

Discharged 4,816 COVID-19 patients after successful treatment

Treated 382 COVID-19 patients in our Intensive Care Units

Had 756 COVID-19 inpatient mortalities

Provided 43,645 days of inpatient care to COVID-19 patients

Performed 133,451 Virtual Visits with patients

Enrolled 255 patients in five COVID-19 clinical trials

Installed eight UV disinfection and germ-killing robots in Tower Health hospitals

Administered 43,363 COVID-19 vaccine doses to our employees and the community

Gratefully received 34,000+ masks donated to Tower Health from the community 
A critical aspect of the pandemic was securing the necessary personal protective equipment (PPE) to ensure the health and safety of patients and health system team members. Tower Health Supply Chain increased its average stock on hand of exam gloves, isolation gowns, isolation and procedure masks, and N95 masks. The average stock on hand of exam gloves in 2019-2020 was 371,367 and increased to 5,960,075 in 2020-2021; the average stock on hand of isolation gowns in 2019-2020 was 49,229 and increased to 722,456 in 2020-2021; the average stock on hand of isolation & procedure masks in 2019-2020 was 48,486 and increased to 1,968,982 in 2020-2021; the average stock on hand of N95 masks in 2019-2020 was 5,184 and increased to 96,272 in 2020-2021.
After a year, there are positive trends in the fight against COVID-19: a decrease in confirmed cases of COVID-19, a decrease in hospitalizations for those infected, improved treatment options, and accelerating vaccine distribution. "The positive news surrounding COVID-19 is encouraging, but we must all continue to wear masks, practice proper social distancing, wash our hands—and I encourage you to get the vaccine when it is available to you," said Debra Powell, MD, Chief, Section of Infectious Disease and Medical Director, Infection Prevention. "We know these methods are effective in preventing the spread of COVID-19 and will help keep our communities safe and healthy."
"While there is good news on the horizon, it is important that we reflect and remember the lives lost too soon to COVID-19," said Ms. Perrotty. "I wish peace to the family members in our community who have lost a loved one to COVID-19. So many individuals in our communities have been personally impacted by a loss and our thoughts must remain with them."
While COVID-19 is still in the community, all Tower Health locations will continue to follow the recommended safety measures from the CDC and Pennsylvania DOH to maintain a safe and clean environment. Employees and patients must wear a face mask within all facilities. All healthcare providers are screened for COVID-19 symptoms prior to the start of each shift and all patients and staff are temperature screened prior to entering the facility. Rigorous cleaning and disinfection protocols remain in place in hospitals, outpatient facilities, offices, and public areas.
Dr. Powell said, "We are committed to providing a safe and clean environment for all Tower Health patients so they can feel comfortable when they are in our facilities. It's so important to schedule and maintain your wellness and screening appointments. This will allow your physicians to manage health concerns or detect other health concerns quickly."
About Tower Health
Tower Health is a strong, regional, integrated healthcare provider/payer system that offers leading-edge, compassionate healthcare and wellness services to a population of 2.5 million people. With approximately 14,000 team members, Tower Health consists of Reading Hospital in West Reading; Brandywine Hospital in Coatesville; Chestnut Hill Hospital in Philadelphia; Jennersville Hospital in West Grove; Phoenixville Hospital in Phoenixville; Pottstown Hospital in Pottstown; and St. Christopher's Hospital for Children, a partnership of Tower Health and Drexel University in Philadelphia. It also includes Reading Hospital Rehabilitation at Wyomissing; Reading Hospital School of Health Sciences in West Reading; home healthcare services provided by Tower Health at Home; and a network of 25 urgent care facilities across the Tower Health service area. Tower Health offers a connected network of 2,200 physicians, specialists, and providers across more than 230 convenient locations. For more information, visit towerhealth.org.