Erin Gingrich
At 19 years old, Erin had already spent years trying to find relief from debilitating pain in her leg. As a college lacrosse player and an active hiker, this pain wasn't just unbearable — it was preventing her from doing what she loves. Erin couldn't walk when she met Dr. Psarros, one of our expert neurosurgeons. She feared she was past the point of moving beyond her pain, but "Dr. Psarros had confidence in me. He took the time and the patience to understand what was going on." After discovering that the source of Erin's excruciating pain was a herniated disc, Dr. Psarros recommended an advanced, minimally invasive procedure. With a few small incisions, he removed her herniated disc, and Erin knew her life had changed forever. "As soon as I woke up, I didn't feel any pain at all," Erin recounted, "I sat up in a position I wasn't able to before surgery, and I thought 'Wow, it's finally gone. My pain is over.' I wanted to go play lacrosse immediately!" Three hours after her surgery, Erin was walking. The day after, she was climbing stairs. And, that summer, she climbed Mt. Washington — and won her lacrosse championship.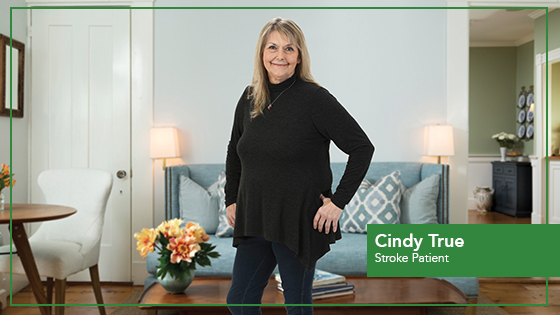 Cindy True
Cindy was laughing with her son and daughter-in-law after enjoying an afternoon at the playground with her grandchildren. But when laughter and conversation suddenly turned into gibberish, Cindy's son knew something wasn't right. Because Cindy had experienced mini-strokes in the past, her son knew it was critical to get her to our Advanced Primary Stroke Center as soon as possible. Upon her arrival, our stroke team quickly administered clot-busting tPA medication to break down the clot in Cindy's brain, followed by a minimally invasive procedure to remove the clot for good. "I felt guided through the whole process," Cindy explained, "from the surgeons and specialists to the dietitians. They were with me every step of the way. I can't wait to give back to my community the way Reading Hospital gave back for me." Today, having had a full recovery, Cindy is looking forward to volunteering with veterans, practicing yoga with her daughter, and watching her grandchildren grow.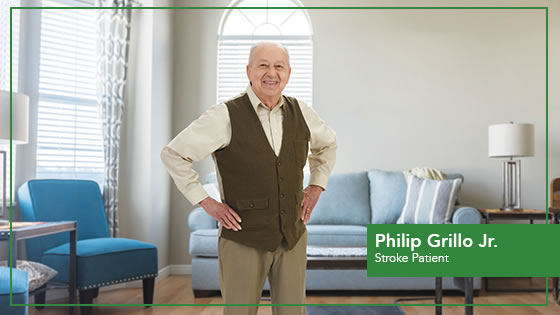 Philip Grillo Jr.
It was a normal afternoon spent working outdoors for Phil. But when he couldn't speak clearly or lift his arms after coming inside, Phil's wife knew this afternoon was far from normal. Understanding that the vital signs and symptoms of a stroke include loss of balance, jumbled speech, blurred vision, a drooping face, and weak arms and legs, Phil's wife called 9-1-1 immediately. Phil's care began in the ambulance when our EMS team used an iPad to start a video conference with a stroke specialist in our Advanced Primary Stroke Center — this allowed us to evaluate Phil's condition before he even arrived.
Upon Phil's arrival, our team immediately administered life-saving tPA to  break down the blood clot in his brain — followed by a minimally invasive thrombectomy, which removed his clot for good. Later that evening, Phil was able to speak again and the next day, "I was fully back to life. Like nothing happened. I am living proof that I received the best care possible." Today, Phil is back working outdoors, enjoys swimming, and hunting.