As you begin your weight-loss journey, you can count on Tower Health to help you overcome obstacles and celebrate wins. Whether you are participating in our medical weight-loss program or getting ready to have bariatric surgery, you will find unmatched guidance and support right here in Southeastern Pennsylvania.
The tools you need to stay on track.
Losing weight takes time and hard work, but the results can be life-changing. That's why Tower Health offers services designed to help you feel empowered and stay engaged. We want to help you achieve — and maintain — a healthier body, lifestyle, and mindset.
Convenient, Comprehensive Support Services
As a weight management patient at Tower Health, you have access to a variety of amenities and services. These include:
Care coordination. If you need a doctor to keep an eye on your blood pressure, sleep apnea, or other obesity-related condition as you lose weight, our team will refer you to Tower Health specialists who can help.
Fitness center. Located at the Weight Loss Surgery and Wellness Center in Reading, our state-of-the-art gym offers a spacious and supportive environment with weights and conditioning equipment. Our staff will help you learn how to use the equipment and build you a tailored, easy-to-follow exercise plan.
Teaching kitchen. Offered at the Weight Loss Surgery and Wellness Center, our fully equipped demonstration kitchen in Reading offers hands-on education from dieticians. You will learn to make healthy recipes that taste great and meet your daily nutritional requirements.
Lifestyle and behavioral change counseling. We can teach you practical ways to eat better and get more exercise or strategies to transform unhealthy thoughts and behaviors.
Nutrition counseling. Our registered dieticians offer individual and group counseling to weight management patients. We can help you reintroduce foods into your diet, understand portion control, and learn how to create nutritious meals on a budget.
Recipes. We help you take the guesswork out of cooking, calories, and carbohydrates with free recipe cards and meal plans.
Support groups. Our free support groups are a great way to learn from weight management experts and other people who are also in the process of losing weight.
---
For Weight Loss Surgery & Wellness Center patients only: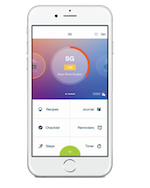 Weight Management App
Connect with us on Baritastic. Our free smartphone app helps you record your progress and stay on track.
With this app you can:
Track Nutrition
Follow a Seminar to Surgery Checklist
Track Exercise
Track Weight Loss
Vitamin and Supplement Reminders
Learn About Bariatric Surgery
Access Diet Guidelines, Instructions, Support Groups
Use a Bariatric Food/Water Timer
Write a Patient Journal

Add this code to the Baritastic app to connect with Weight Loss Surgery & Wellness Center. Available on the Apple Store and Google Play.
| | |
| --- | --- |
| Code: 85673 | Search major app stores for Baritastic. Download the app. Open the app and enter the code in the 'Connect to My Program' section to connect with the Weight Loss Surgery & Wellness Center.  |