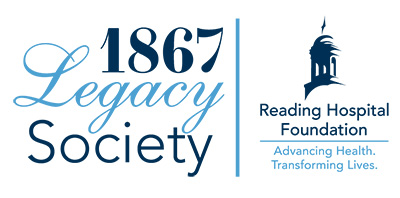 The 1867 Legacy Society, named to commemorate the founding of Reading Hospital, recognizes those donors who have included Reading Hospital in their estate plans. This forward-thinking support secures resources for Reading Hospital in the future to continue our mission of advancing health and transforming lives.
Planned gifts have provided crucial support to Reading Hospital since its beginning and continue to be vital to our financial growth and stability. Some of the hospital's buildings, programs, and equipment bear the names of generous donors who chose to create a planned gift. These tributes illustrate how planned gifts continue to have a lasting impact on our patients' lives.
To join the 1867 Legacy Society, donors must inform Reading Hospital Foundation that they have established a planned gift. If you would like more information on which planned gift is best for you, please contact Tony Balistrere, Director of Development, at tony.balistrere@towerhealth.org or 484-628-5126. Tony can assist you in reviewing the different types of planned giving, such as charitable bequests, remainder trusts, and life insurance proceeds. Combined with your financial objectives and special interests, we can determine the right planned gift and its size for you.
Reading Hospital Foundation thanks our 1867 Legacy Society donors for entrusting us and allowing Reading Hospital to share in their personal legacy.