Mission & Overview
The mission of our program is to train leaders in academic and clinical pediatric endocrinology by emphasizing both evidence-based clinical care and outstanding scholarship.
While the first year of training is primarily devoted to gaining clinical expertise in pediatric endocrinology and diabetes, research mentorship and the design of a research project are also established. The second and third year of training are mainly focused on research activities, with a gradually decreasing involvement in clinical training.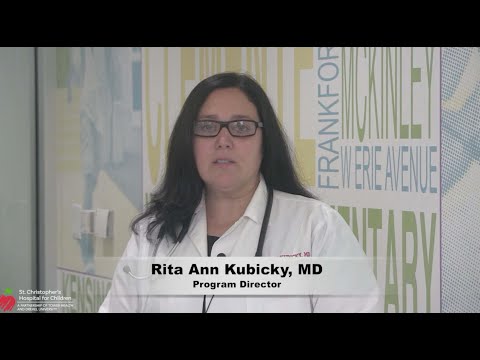 Pediatric Endocrine Fellowship
Program Interviews with Dr. Kubicky, Dr. Suarez and Dr. Marinescu
Watch the Video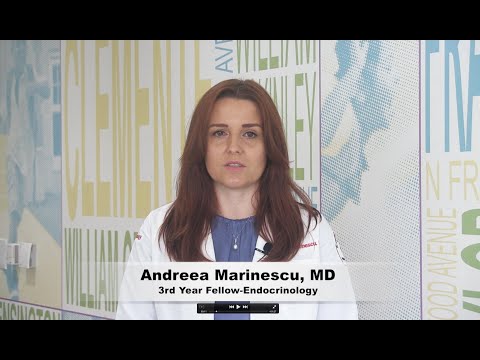 What Our Fellows are Saying: Pediatric Endocrine Fellowship Program
Watch the Video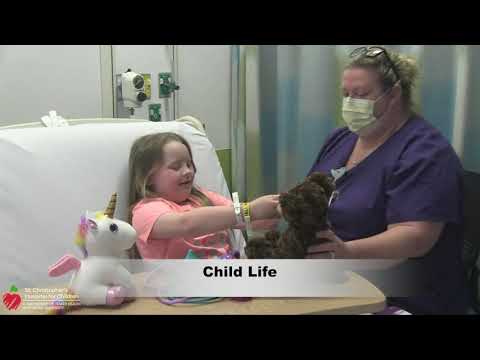 Welcome to St. Christopher's Hospital for Children
A virtual tour of St. Christopher's Hospital for Children.
Watch the Video
Educational Curriculum
Educational Goals
A. Knowledge
At the completion of the program the fellow is expected to have an adequate understanding of:
Cardinal elements of endocrine physiology, including mode of synthesis, release, and action of hypothalamic factors, pituitary hormones, thyroid hormones, parathyroid hormone, adrenal hormones, gonadal hormones, and vitamin D system
The normal anatomy of the genitalia and its development, and the etiology of ambiguous genitalia.
Mechanisms and events characterizing normal puberty, and variations of normal (premature thelarche and adrenarche, pubertal gynecomastia, constitutional delay of growth and puberty)
Etiology, signs, symptoms, and management of precocious and delayed puberty.
Causative mechanisms, signs and symptoms of autoimmune (Hashimoto's) thyroiditis.
Clinical manifestations and laboratory features of congenital and acquired hypothyroidism and hyperthyrodism.
Pharmacological characteristics of l-thyroxine and anti-thyroid medications.
General principles of human growth, with special emphasis on variants of normal growth
Common causes of short stature and diagnostic work-up of endocrine-related forms of growth failure (growth hormone deficiency, Cushing's disease, hypothyrodism.
Causes of pathological tall stature
Mechanisms of hypoparathyroidism (genetic, autoimmune, post-surgical, calcium receptor-related) and its effects on calcium/phosphorus metabolism
Etiology, clinical manifestations, diagnosis and treatment of adrenal failure, congenital adrenal hyperplasia, and Cushing's disease.
Features and management of pheochromocytoma
Etiology, clinical manifestations, and management of type 1 and type 2 diabetes, and their acute and long-term complications
Causes, signs, symptoms, and management of the most frequent metabolic disorders, such as hypoglycemia, hypo- and hypercalcemia, hypophosphatemia, and hypomagnesemia
Cardinal features of rickets
Physiology of bone mass accrual during childhood and adolescence, with special emphasis on the mechanisms causing osteoporosis, its prevention and treatment.
Features of the metabolic syndrome
Disorders of fluid and electrolyte balance (diabetes insipidus and SIADH).
Fundamentals of medical research including methods of molecular biology, epidemiology, clinical trial design.
B. Skills and attributes
At the completion of this program the fellow is expected to have acquired skills to:
diagnose endocrine disorders using the patient's history, physical examination, laboratory tests, and radiological studies
search relevant medical literature to seek guidance for the diagnosis and management of challenging clinical problems
recognize age-related changes in endocrinological laboratory values
develop an effective therapeutic plan for endocrine disorders, and monitor response to the treament and adverse effects
interact with collegues as consultant, treating physician, or team member
provide knowledge and referral to pertinent medical literature to endocrinological matters to medical students, other physisicians, and nonphysician members of the healthcare team
develop and present educational material for conferences and seminars, for both healthcare professionals and patients' families
recognize and manage psychosocial difficulties in endocrinological patients and their families 
First Year
The goal is to support the fellow in the process of learning the cardinal elements of endocrine physiology and pathology through didactice lectures, exposure to patients in the inapatient and outpatient settings, and by attending clinical conferences. The fellow will give two journal clubs and lectures to the residents and students attending the endocrine elective. He/she will also will learn to diagnose and manage children with the most frequent acute and chronic endocrine disorders under the direct supervision of the attending, both in the inpatient and outpatient setting.
He/she will also learn research methods and techniques and develop a research hypothesis
Second Year
The fellow will consolidate his clinical expertise and progressively gain more knowledge regarding physiology and pathophysiology of all endocrine disorders, including the more unusual ones. In addition, he/she will acquire a more definite supervisory role among the first-year subspecialty residents, residents, and students. The fellow will also gain more responsibility in organizing clinical conferences and leading work rounds. With respect to research, he/she will carry out the research project(s) developed in the first year, and present the research data at the sections' research conferences and scientific meetings.
Third Year
The fellow will continue to gain a more in-depth knowledge of endocrine physiology and pathophysiology thorugh conferences, journal clubs, and reading. Regarding patient care, he will be able to diagnose and manage children with all types of endocrine disorders, with a progressively reduced input from the attending. At the end of the year, he/she will be able to be an effective clinician and teacher. The resident will complete his/her research project(s) and submit his/her findings to peer-reviewed journals. 
Educational Rotations
Clinical Rotation
The fellow will have clinical responsibilities for 1-month rotations, assigned a s follows:
In the first year, 8 months of clinical rotations (1 of which is vacation, to be taken during the outpatient rotation) and 4 months of research rotations.
In the second year 7 months of clinical rotations (1 of which is vacation, to be taken during the outpatient rotation) and 5 months of research rotations.
In the third year, 5 months of clinical rotations (1 of which is vacation, to be taken during the outpatient rotation) and 7 months of research rotations.
The fellow's clinical responsibilities include both inpatient and outpatient care.
In case there is only one fellow on clinical rotation, he/she will be assigned to the outpatient clinic two sessions a week (the endocrine and the diabetes continuity-of-care clinics). The rest of the time will be devoted to inpatient care.
If two fellows are on clinical rotation, two of the four weeks will be devoted to outpatient clinical responsibilities (7-8 sessions a week for the first-year fellow, 3-4 sessions for the second- and third-year fellows), and two weeks to inpatient responsibilities. In the two weeks of inpatient responsibilities, the fellow will have outpatient care responsibilities only during his/her continuity-of-care clinics.
During the two weeks of outpatient responsibilities, the second- or third-year fellow is expected to mentor/advise the first year-fellow on his/her inpatient responsibilities, when necessary.
Inpatient care responsibilities: the fellow will gain knowledge and experience of the management of acute endocrine disorders, with particular emphasis on the diagnosis and treatment of acute complications of diabetes mellitus (ketoacidosis and hypoglycemia), mineral disorders such as hypocalcemia and hypercalcemia, acute adrenal insufficiency and congenital adrenal hyperplasia, diabetes insipidus and SIADH.
The fellow is supposed to be at the office by 8 a.m. After reviewing the inpatients' laboratory studies, he/she will discuss them with the attending on service and then make morning rounds. During the day, he/she will take calls for in-house or outside (referring pediatricians, other hospitals) consultations and discuss them with the attending. In-house consultations will be carried out by the fellow on service and pediatric residents /medical students on the endocrine elective, and then discuss with the attending before the afternoon inpatient rounds. Endocrine inpatients and in-house consultations evaluated by the fellow on service will be followed by the same fellow in his/her outpatient continuity clinic, if necessary. It is expected that the fellow keeps a logbook with the initials, birth dates, and diagnoses of all the patients seen by him/her during the inpatient rotation.
Outpatient care responsibilities: the fellow will gain knowledge and experience of the management of chronic endocrine disorders, with particular emphasis on growth, thyroid and parathyroid disorders, type 1 and type 2 diabetes, the metabolic syndrome, rickets and osteoporosis, adrenal insufficiency and congenital adrenal hyperplasia, hypopituitarism, diabetes insipidus, and SIADH. In the outpatient portion of the clinical rotation, emphasis will be also placed on the interaction between chronic endocrine disorders (especially diabetes, hypopituitarism, obesity and the metabolic syndrome, pubertal disorders and short stature) and psychosocial/behavioral difficulties often associated to such disorders. Such interaction will be addressed through personal reading and input from the attending, psychiatrist, and social work staff.
The fellow with outpatient clinical responsibilities (including his/her continuity care clinic) is expected to be at the office by 8:30 a.m. The first- and second-year fellows will evaluate a patient and discuss his/her findings and propose a diagnostic and therapeutic plan to the endocrinology attending, who will then examine the patient and set a management plan. Along with the evaluation of new patients, the fellow will care for outpatients previously evaluated by him/her (either on the inpatient ward or in clinic), continuity of care. During the continuity-of-care clinics (two outpatient clinic sessions a week), the first- and second-year fellows will evaluate three to four patients under the direct supervision of the endocrinology attending. The third-year fellow will be the primary caregiver for three to four patients per sessions, and he/she will discuss any concerns or changes in the management plan with the attending during or after the outpatient clinic session. It is expected that the fellow keeps a logbook with the initials, birth dates, and diagnoses of all the outpatients seen by him/her in clinic.
During the clinical rotation, the fellow is instructed in clinical and basic sciences related to Pediatric Endocrinology, with particular emphasis on endocrine embryology, physiology, pathology, and biochemistry. Such instruction is provided during Clinical and Research conferences, Attending Rounds, Data Club, and with the Program Director and the endocrine faculty providing textbook chapters and review articles focused on specific topics.
Fellows are instructed in the proper use of laboratory techniques for measurement of hormones, with emphasis posed on recognizing the limitations and pitfalls of result interpretation. Fellows are also instructed in the interpretation of endocrine dynamic tests (stimulation and suppression) and fasting study. Such instruction is provided during clinical conferences, a one-day course on Clinical Laboratory Techniques, and during daily inpatient and outpatient clinical activities.
During the three years of training, fellows will spend four weeks in an adult endocrinology rotation in the Division of Endocrinology at Drexel University College of Medicine. This rotation will exclusively include attendance at outpatient clinics.
During periodical conferences given by the Department of Radiology faculty ("Imaging Syllabus") to the endocrinology fellows throughout the three-year training, and during the weekly Neuroradiology conferences, fellows are also provided with instruction on the use and interpretation of current radiologic procedures applied to endocrinology (Ultrasonography, CT scanning, MRI, Nuclear Medicine).
Instruction on Cytogenetics techniques and their application in Endocrinology is provided by the Director of the Cytogenetics Laboratory during an annual half-day course.
Research Rotation
During the first year, the fellow is expected to attend a formal course as part of the Core Curriculum lecture series, He/she will gain knowledge in research study design, laboratory and clinical research methodology, epidemiology, biostatistics, data collection and analysis, critical reading of the scientific literature, preparation of abstracts and manuscripts, preparation of protocols for IRB and IAUCUC, and mechanisms of funding and grant submission. 
A 1-day course will be focused on gaining knowledge of research laboratory techniques, with special emphasis in molecular and cell biology techniques (immunohistochemistry, in situ hybridization, Western and PCR analyses) as well as cell and tissue culture techniques. Dr. De Luca and a research associate will be responsible for planning and supervising the fellow during this course.
The Program Director and the endocrine faculty will expose the fellow to the research fields familiar to the section and will help him/her to formulate the research hypothesis to be tested. If the fellow chooses a laboratory research study, he/she will be mentored by Dr. De Luca, with the additional guidance of a research associate (when available). Should the fellow choose a clinical research project, he/she will be mentored any of the endocrinology faculty (Drs. De Luca, Suarez, Kubicky, and Azam). Based on the research project, the fellow may choose a research mentor outside the institution.
The mentor is responsible for setting goals, evaluating progress of research, and overseeing completion of work, presentation of findings, and writing the manuscript(s). With the supervision of the mentor, the fellow also learns how to search the pertinent literature in order to formulate a sound research hypothesis. The fellow  is expected to have written his/her research project and relative human or animal study protocol toward the end of the first trimester of the first year. 
In addition, the fellow is assigned to a Scolarship Oversight Committee, which is responsible to monitor and advise the fellow on his/her research progress. The Committee meets ~ twice a year with the fellow. Research progress is also evaluated by the program director and the mentor periodically (1-2x/month) during the data club.
During the research rotation, the fellow will attend the outpatient clinic only for his/her continuity-of-care clinics.
During the clinical and research rotations, the fellow is expected to gain medical knowledge through the reading of articles and textbook chapters relevant to endocrinology.
Educational Strategies
Participation in Pediatric Endocrinology Inpatient Service and Outpatient Service and interaction with the endocrine attendings and nurses.
Attendance and participation to all the weekly and monthly conferences (as per schedule).
Attendance at the Core Curriculum seminars.
Attendance at the Clinical Chemistry Laboratory and Cytogenetics courses, and at the Imaging Syllabus
Participation in local, regional and national conferences.
Evaluation Tools
Competency evaluations forms (3600)
Direct observation
Attendance noted or sign-in sheet
In-service examinations
Impromptu discussion of clinical cases and literature review
Verbal feed-back
Recent Publications
De Luca F. Role of Nuclear Factor kappa B (NF-kB) in growth plate chondrogenesis. Ped Endocrinol Rev. 2016 June; 13: 720-730.
Wit JM, De Luca F. Atypical defects resulting in Growth Hormone Insensitivity: a clinical perspective. Growth Horm IGF Res. 2016 Jun;28:57-61.
Shoar Z, Goldenthal M, De Luca F, Suarez E. Association between mitochondrial DNA content, mitochondrial function, and childhood obesity and insulin resistance. Endocr Res. 2016 Feb;41(1):49-56.
Baron J, Savendahl L, De Luca F, Dauber A, Phillip M, Wit JM, Nilsson O. Short and tall stature: a new paradigm emerges. Nat Rev Endocrinol. 2015 Dec;11(12):735-46. doi: 10.1038/nrendo.2015.165. Epub 2015 Oct 6.
Grunwald T, De Luca F. Role of Fibroblast Growth Factor 21 (FGF21) in the regulation of statural growth. Current Pediatric Reviews, Curr Pediatr Rev. 2015;11(2):98-105.
Wu S, Yang W, De Luca F. Insulin-like Growth Factor independent effects of Growth Hormone on Growth Plate Chondrogenesis and Longitudinal Bone Growth. Endocrinology, 2015 Jul;156(7):2541-51.
Mericq V, De Luca F, Hernandez MI, Pena V, Rossel K, Cavada G, Avial A, Iniguez G. Fibroblast Growth Factor 21 is inversely associated with growth in infancy. Hormone Research in Pediatrics 2014; 82: 324-331.
Dunne C, De Luca F. Long-term Follow-up of a Child with autoimmune thyroiditis and recurrent hyperthyroidism in the absence of TSH Receptor antibodies. Case Reports in Endocrinology 2014;2014:749576. doi: 10.1155/2014/749576.
Angelis D, Kubicky RA, Zubrow AB. Methimazole associated neutropenia in a preterm neonate treated for hyperthyroidism. Case Rep Endocrinol. 2015;2015:680191.
Shoar  Z,  Ganguly T, Anderson CE, De Luca F, Suarez E. Absence of Wnt4 gene mutation in a patient with MURCS association. J Pediatr Endocrinol Metabol., 2014 May 1;27(5-6):555-9
Wu S, Grunwald T, Kharitonenkov A, Dam J, Jockers R, De Luca F. Increased Expression of Fibroblast Growth Factor 21 (FGF21) during Chronic Undernutrition Causes Growth Hormone Insensitivity in Chondrocytes by Inducing Leptin Receptor Overlapping Transcript (LEPROT) and Leptin Receptor Overlapping Transcript-like 1 (LEPROTL1) Expression.  J Biol Chem. 2013 Sep 20;288(38):27375-83.
Kuirmchak A, Haines D, Garriga J, Wu S, De Luca F, Swerediski M, Deshaies R, Hess S, Grana X, Activation of p107 by FGF, which is essential for chondrocyte cell cycle exit, is mediated by the PP2A/B55α holoenzyme. Mol Cell Biol 2013 Aug;33(16):3330-42
Faculty
Elizabeth Suarez, MD
Rita Ann Kubicky, MD
Anita Azam, MD
Current Fellows
Rashmi Jain, MD
Recent Graduates & Present Employment
Tal Grunwald, MD (2016): Nemours/ A.I. DuPont Hospital for Children, Wilmington, DE
Filia Dimitriadi, MD (2015): University of Athens, Greece
How To Apply
Our fellowship program participates to the Pediatric Specialties Spring Match. Applications can be submitted at www.aamc.org/students/eras, beginning November 15, 19 months prior to the desired July 1 starting date. Interviews will be scheduled after December 1.
Prospective fellows must provide evidence of:
Successful completion of training in an ACGME accredited residency training program in pediatrics or, if the prospective fellow is a graduate of a non-U.S. medical school (a Foreign Medical Graduate, FMG), he/she must have successfully completed training in Pediatrics comparable to that of an ACGME accredited residency training program. This training (medical school and residency training) must be approved by the ACGME.
U.S. Citizenship/Permanent Residence or a valid U.S. J-1 Visa
Inquiries & Contact Information
Inquiries regarding the pediatric endocrinology fellowship program can be made to:
Christina Suarez
Program Coordinator
Phone: 215-427-3482