Chief Residents 2023-2024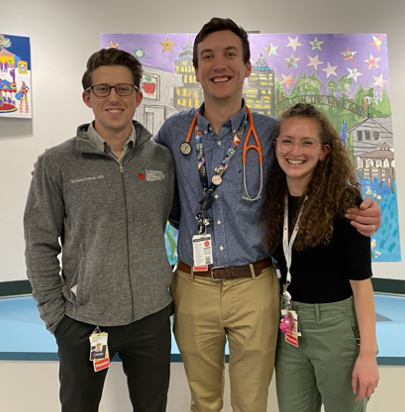 Annually, three residents are selected during the winter of the PL-2 year to serve a fourth year as Chief Residents. The position carries a broad range of responsibilities, similar to those of junior faculty members. In addition to assisting first-, second-, and third-year residents as mentors, the Chief Residents participate in the overall administrative operation of the residency program, which includes designing and maintaining resident schedules. 
Chiefs serve as advocates and liaisons between the house staff, faculty, and administration. They serve as members of many hospital administrative committees. Most fondly, Chief Residents serve as educators in daily conferences, including "Chief Rounds," our case-based, highly interactive version of the morning report. Our Chiefs have presented their innovative techniques for teaching a continuum of learners in dynamic ways at multiple annual meetings of the Association of Pediatric Program Directors.
For a few weeks a year, each of the Chief Residents acts as an attending physician in the inpatient service. They also spend several sessions each week in the outpatient clinics, either as solo practitioners or as preceptors to medical students and residents in our continuity and sick clinics. Chiefs are encouraged to take part in research projects and curricular design at the hospital. Many of our recent Chiefs have presented their scholarly work at national meetings.