St. Christopher's offers an accredited 24-month certificate Residency in Pediatric Dentistry. The program is designed to prepare the resident for the practice of pediatric dentistry and to qualify the resident to apply for examination and certification by the American Board of Pediatric Dentistry.
A full spectrum curriculum 
In addition to attending medical conferences and seminars with pediatric residents, pediatric dental residents also attend medical grand rounds once a week. The didactic curriculum includes lectures and conferences on pediatric dentistry, growth and development, microbiology, genetics, conscious sedation, practice management, and biostatistics.
The clinical component of the program at St. Christopher's is based within the hospital, providing comprehensive preventive and restorative care for a multitude of pediatric patients. Oral heathcare is provided to special needs pediatric patients in collaboration with St. Christopher's Heart Center and Departments of Neurology, Oncology, Hematology, Genetics, and Developmental Pediatrics. St. Christopher's pediatric dental residents experience dental consultation requests from all departments within the hospital, including ICU, CCU, and Special Care.
With a dedicated Cleft Palate and Craniofacial Team, the resident is exposed to various phases of craniofacial and cleft palate treatment planning. In addition, the resident will have a strong experience in treating pediatric patients that require general anesthesia for their oral rehabilitation procedures.
Residents participate in a four-week rotation in both Pediatric Medicine and Anesthesiology. Residents also are assigned to a two-week rotation in both Emergency Medicine and Oral-Maxillofacial Surgery. Teaching experience is provided for the residents during their second year.
No application fee required
Residents are required to initiate and complete a scholarly activity project. Applications should be submitted through the Postdoctoral Application Support Service (PASS). In addition to the PASS Application, the candidate for the Pediatric Dental Residency Program is required to submit a 2x2 photograph directly to the program. More information is available about benefits, contracts, and policies.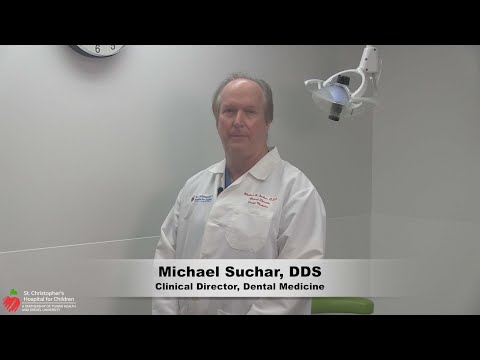 Pediatric Dental Medicine Residency
Program Interviews with Dr. Michael Suchar and Dr. Richard Clark
Watch the Video