Reading Hospital
Since its inception in 1867, Reading Hospital has provided the highest-quality healthcare in the region, as well as access to cutting-edge technology and experienced, caring medical professionals. The 714-bed, non-profit teaching hospital and Level 1 Trauma Center operates a 22-building complex on 36 acres of land, with over 6,900 staff members and 970 physicians and allied health professionals in 53 specialties.
Reading Hospital offers across-the-board care, extending from prevention, screenings, and education to the most recent treatments and clinical services. As the largest employer in Berks County, the academic medical center is notable for being a regional referral center for cardiac disorders, cancer, neonatology, behavioral health, and orthopedic services. The institution ranks among top four in Pennsylvania hospitals for patient admissions, surgical procedures, emergency care volume, and outpatient services.
Reading Hospital will operate as the primary teaching site for the Neurology residency program. This site will host all clinical adult rotations, including experiences in inpatient neurology, neurocritical care, outpatient adult neurology, EEG, EMG, and the longitudinal continuity clinic.
A Virtual Tour of Reading Hospital
An overview of Reading Hospital's campus and facilities.
Watch the Video
St. Christopher's Hospital for Children
St. Christopher's Hospital for Children, a partnership between Tower Health and Drexel University, is a 188-bed facility that provides exceptional care to children throughout the Greater Philadelphia area and surrounding counties. St. Christopher's has more than 220 pediatric experts on staff, combining top-notch pediatric care with a wide array of pediatric specialties. It houses the only Verified Pediatric Burn Center between New York City and Baltimore and is one of only three Level 1 Pediatric Trauma Centers in Pennsylvania. St. Christopher's Hospital for Children is a Magnet®-designated hospital and was recognized as a Women's Choice Award Best Children's Hospital.
The Section of Neurology at St. Christopher's is one of the area's leading providers of comprehensive diagnostic and therapeutic programs for acute and chronic disorders of the central and peripheral nervous systems. Programs respond to the individual medical and psychological needs of children with conditions including epilepsy and other seizure disorders, tics and other movement disorders, neonatal neurological problems (neonatal seizures, perinatal asphyxia), neurometabolic and neurogenetic diseases, migraine and other chronic headaches, spasticity in conditions such as cerebral palsy, muscular dystrophy, neuropathies, and other neuromuscular disorders, intellectual and other learning disabilities, and neurological sleep disorders.
Residents will complete a total of three four-week rotations in Child Neurology at this site in their PGY-3 and PGY-4 years.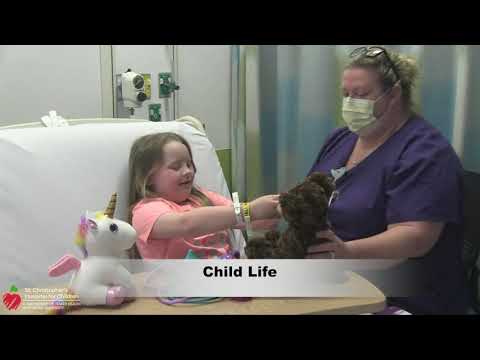 Welcome to St. Christopher's Hospital for Children
A virtual tour of St. Christopher's Hospital for Children.
Watch the Video